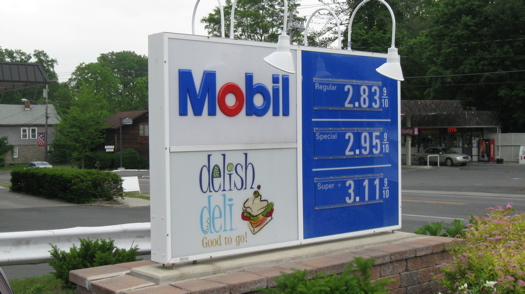 By Jessica Pasko
Gourmet grub from a gas station?
Sounds like a Top Chef quickfire challenge, doesn't it? When users started praising the Delish Deli at the Mobil station in Delmar on Yelp, other users were quick to dismiss.
Really, who goes to a gas station for lunch? I mean, unless your concept of a meal consists of Twinkies and those rancid-looking hot dogs in glass cases? I don't.
Well... I didn't.

Delish Deli isn't your normal gas station. From all outside appearances, it's a Mobil. Inside's another story.
It's a full-on deli with yummy-looking selections like stuffed roast pork and eggplant rollatini, along with an entire selection of higher-end grocery products like fancy mustards and tapenades.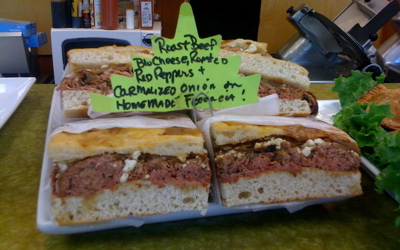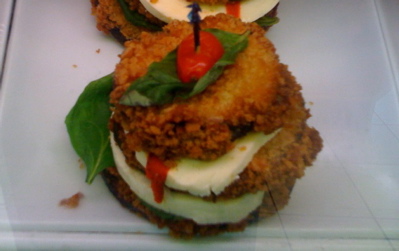 I even found gluten-free spaghetti there, much to my great surprise. The chip selection also contained some fancier-looking choices, like sweet potato chips and guacamole-flavored ones that looked imported.
Clearly the owner has a sense of humor. The business's slogan is "Great food in a crazy location!"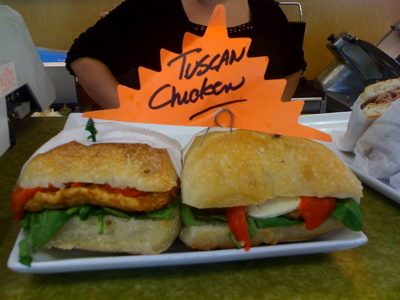 The selection changes, but includes items like three-cheese, seven-layer lasagna, muffaletta, grilled veggies and chicken marsala. That's in addition to a full line of scrumptious-sounding sandwiches, panini, salads and wraps. A cubano? Yes, that features slow-roasted pork, ham, swiss cheese, sweet pickles and dijonnaise drizzle. California Dreamin' is made with monterey pepperjack cheese, avocado, lettuce, tomato, olives, red onions and mango chutney on a whole-grain wheatberry bread. Prices seem pretty reasonable too -- most sandwiches are around $6.99.
They even had boxes of frozen chocolate-covered bananas on sticks. Paging George Michael Bluth.
The little deli in the Mobil station even does catering.
I tried the tarragon chicken salad with pecans and grapes. There were nice chunks of chicken and just the right amount of mayonnaise. I loved the crunch added by the pecans. Unfortunately the salad wasn't quite as tasty as I'd expected. It needed more seasoning.
But I did like the multicolored potato chips -- blue, regular and sweet potato all in one, and
I'm definitely hoping to try some of the other entrees soon.
So yes -- I'm officially a convert to the belief that good food can, indeed, be found in a gas station.
Find It
Delish Deli at Delmar Mobil
317 Delaware Ave.
Delmar, NY 12054
439-2865
On Twitter: @DelishDeli
Hi there. Comments have been closed for this item. Still have something to say? Contact us.