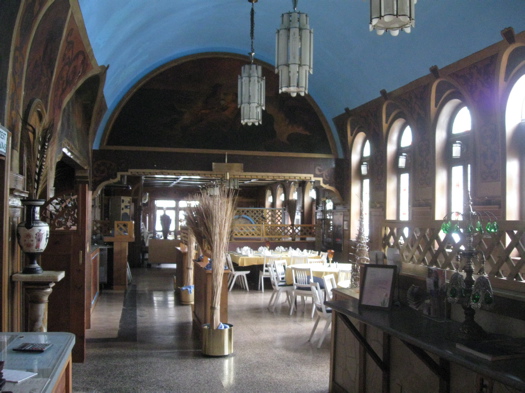 So far, Lunch Week has been all about where to go to lunch now. But it got us thinking about where people used to eat "back in the day."
Restaurants are about more than just food -- they're about atmosphere and character and clientele. They're gathering places full of stories.
From the late 1920's through the 1950's, one of the more interesting places people gathered in Albany was a 24 hour, semi-self-serve joint at the corner of Central Ave and Robin St. called The Boulevard Cafeteria.
Today it houses Ristorante Paradiso, owned by Matt Daskalakis. Matt used to eat at the Boulevard when he came to Albany to play for the Albany Senators in the 1950s. He gave us the tour of the old place, which is virtually untouched except for a movie makeover in the 1980s.
Be sure to scroll down to check out the menus (with prices) from the 1930s and 1940s.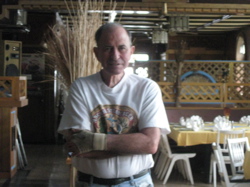 What was the Boulevard Cafeteria like?
The Boulevard Cafeteria was one of the most popular eating and gathering places in Albany. It was a 24 hour operation. It was build in 1928, and in 1931 they expanded and the owner, George Jeoney, added a back room for the faculty from the Teachers College.
They had a system at The Boulevard that was unheard of, at least in Albany, at the time. You'd come in and pull a ticket out of this machine, then you went to the counter and ordered.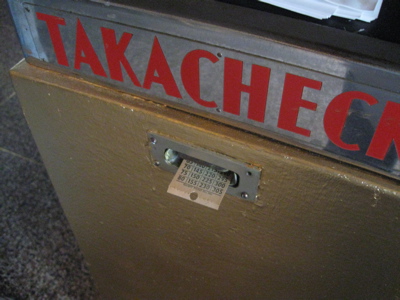 The counter man had a hole punch and he would punch the amount you owed into the ticket.
Most of the menu items were on the wall and you would go and read and tell them what you wanted and he'd punch your ticket. So there was no waitstaff and no tipping.
So it kind of ran on the honor system? Did people -- you know -- try to get around it?
(Laughs) The only thing I've heard was that there were some people -- especially the late night people -- they would pull two tickets and they would order something pricey, sit down and eat it, and then go get something inexpensive -- like a cup of coffee -- with the other ticket. Then when they'd leave, they'd only give the cashier the second ticket.
Those were the schemers. I guess every era has its schemers.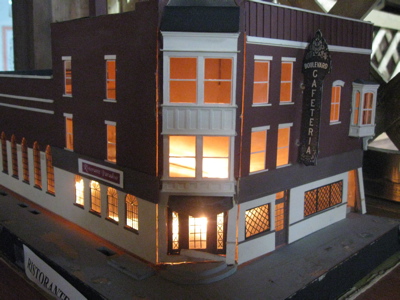 What was The Boulevard known for?
I don't know about a particular kind of food -- but what it was noted for was so many diversified groups of people ... whether it was students and teachers from the State Teachers College, telephone workers, revelers, people going to work in the morning. There was a shoeshine stand. People from every walk of life coming in at different times. The sports people would come in and draw their plays on paper napkins and go over them. So many happy stories came out of here.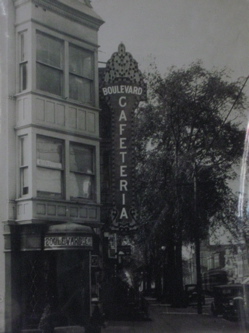 Sounds like kind of a cool place. Why did it close?
It closed around 1965. At that time people were moving out to the suburbs. Colonie Center was becoming a reality. The South Mall was about to become a reality, even though it took a few years. Also automobiles and a lack of parking -- the area sort of lost its glow.
What saved this building in terms of a restaurant was [the film] Ironweed.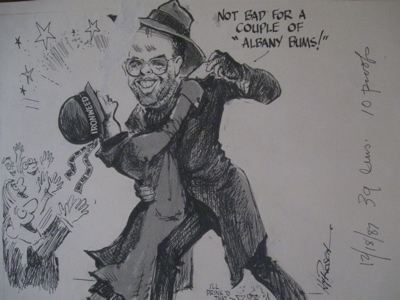 This building was picked for one bar scene where Meryl Streep sings "Bird in a Gilded Cage." I had just purchased the place for a retirement investment when the movie people saw it. They were looking for a place that looked like the 1938 era -- untouched. They remodeled the floor and built a bar and when I closed on the building I ended up with a restaurant.
In the movie scene they shot here, there were so many big stars -- Nicholson, Meryl Streep, Nathan Lane, Fred Gwynn. When people watch the film everyone is watching them -- except me. (laughs) I'm looking at the little bits of the lights and woodwork and stained glass.
____
Ristorante Paradiso is only opening for private parties this summer, but small groups are welcome. In September they're re-opening with pizzas and a light menu for -- yep -- lunch.
Here's a menu from 1934: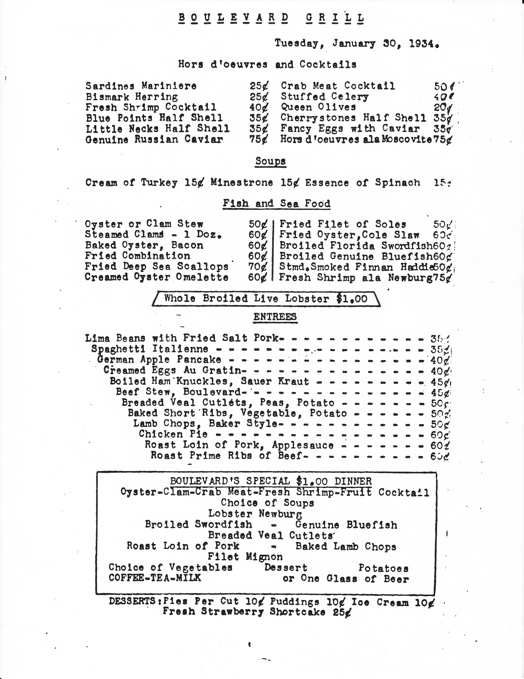 And another undated menu: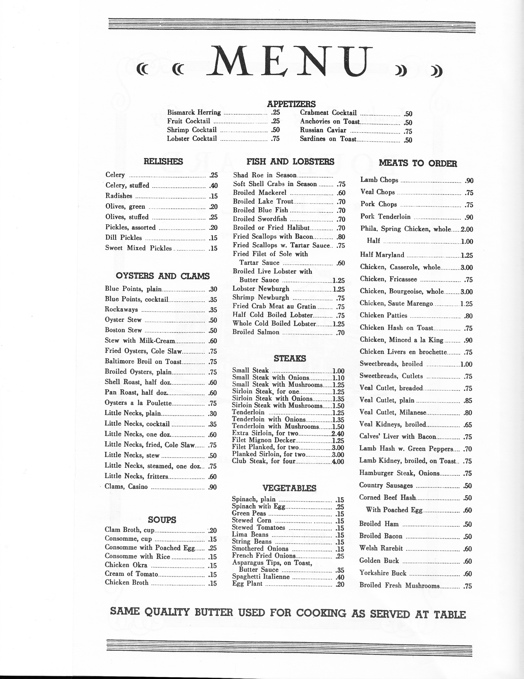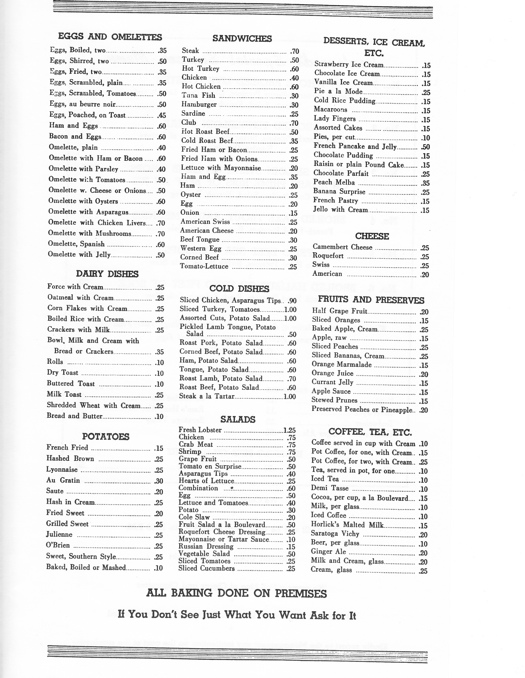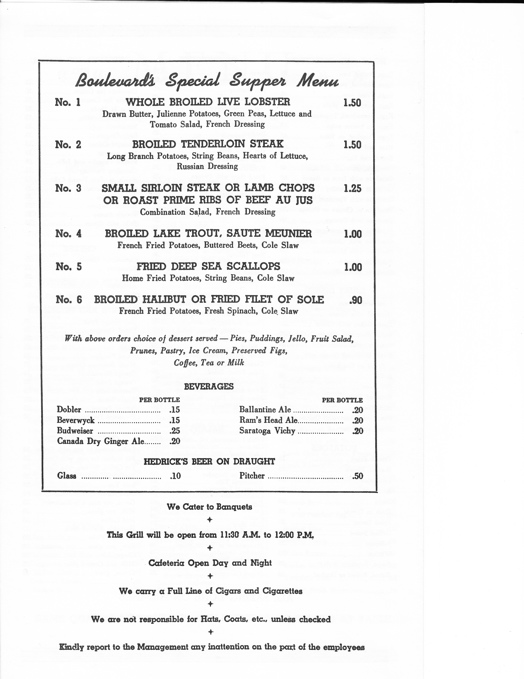 And here's Matt, showing the ticket machine in action:
Find It
The Boulevard Cafeteria (now Ristorante Paradiso)
198 Central Avenue
Albany, NY 12206
Hi there. Comments have been closed for this item. Still have something to say? Contact us.