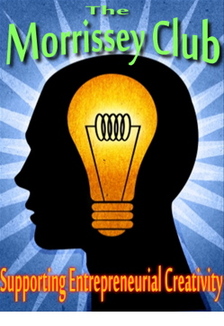 Bob Millis thinks the Capital Region's musicians, artists and inventors have a lot in common. He also believes they can do a lot to help each other.
Millis, a business strategy consultant who blogs about technology, business, economics, community and other stuff, is also one of the founders of The Morrissey Club -- a sort of chamber of commerce alternative for the creative class of the Capital Region.
You can check the group out tomorrow when they team up with Sustainable Saratoga to host a panel discussion with James Kunstler and others at Skidmore.
Millis talked with AOA about the group, who it's for and why the Capital Region needs it.
What sorts of members is the Morrissey Club looking for?
It's for anybody who either makes a living or enjoys creating something from nothing. That could be a software designer internet web developer, a writer, an artist or a musician. People that create stuff or invent stuff, as opposed to someone who takes someone who takes stuff someone else made and sells it. Innovation and creativity is what we've all about. Our base philosophy is The Rise of the Creative Class --the Richard Florida book. We need to support the creative class of the Capital Region if we think we're going to be a 21st economy.
What made you think there was a need for this type of group in the Capital Region?
Your typical chamber of commerce isn't thinking about these things the way they should They're more Main Street USA oriented. Their constituency is retail and real estate, and they're good at that. But they don't have a really good handle on intellectual property, global economies, how to foster a software industry.
There are a lot of creative people in the Capital Region. The demographic of the area is changing and there's a lot of innovation going on here. David Levesque (one of the other founders) and I were talking about going to the Tech Connex meeting in Albany. Tech Connex connects the tech community, but we thought it would really be good to expand it to more of a creative community kind of thing.  We don't think there are existing networking groups that support that group of people we don't think tradition.
Why bring these groups together? How can these artists and tech folks help each other?
We think a lot of creativity and inventions happen when you "mix the tribes," so to speak.
First of all, they're creators, so they have that in common. But a software developer may need a musician or artist. An artist or musician may want to do something that they need software for. Our role is to bring together creative people who might not otherwise meet each other. We think software developers should be talking to artists ... musicians talking to engineers... writers talking to cell biologists ...
We're still a little heavy on the tech folks, but we're working to change that. We've working on an event in the fall for musicians and artists.
What do you want to do for these groups?
First we want to provide an environment where these types of folks can get together and meet and greet and share ideas. We're working on putting together some larger events and including music. We're also working on putting together an annual forum or conference with some global speakers. We're hoping that will happen next spring.
But eventually we'd like to create a sort of think tank. We envision a lobbying arm-- research papers, fellowship opportunities -- like the Michael Milken institute, but without all the baggage (laughs).
We want to work on questions like "How do we grow a creative region so that it grows its own businesses organically rather than attracting from outside?" We think those issues are getting short-shrift from economic development discussions.   
What does it cost to join?
We wanted to keep the cost low. Membership is $100 a year. If you'd rather just come and pay meeting by meeting, you can do that for $15 a meeting or you can get an online only membership for $10. Right now we meet at Putnam Den in Saratoga -- there's free pizza and drinks. There are speakers or panels. My favorite meeting was probably one where someone came in and told us he was having a problem with his business, and everyone started asking questions and brainstorming... and we helped him fix it.
Where does the name come from?
The group is named after John Morrissey. We're a Capital Region group, but we started in Saratoga. Morrissey is the person who really created the modern day Saratoga economy. He was an unlikely businessperson -- he was sort of a street thug from Troy, and a boxer and for a while a Tammany Hall gangster, but eventually he came up here and invented the Saratoga economy that the city still runs on today.
Say Something!
We'd really like you to take part in the conversation here at All Over Albany. But we do have a few rules here. Don't worry, they're easy. The first: be kind. The second: treat everyone else with the same respect you'd like to see in return. Cool? Great, post away. Comments are moderated so it might take a little while for your comment to show up. Thanks for being patient.