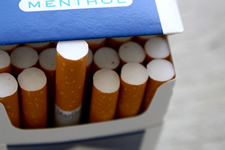 A bill passed by the state legislature last night will increase the state tax on cigarettes from $2.75 to $4.35 per pack. That's the highest in the nation.
We were kind of curious about how much higher New York's tax will be compared to other states -- especially states that are right next door. And yep, you guessed it -- the inevitable chart is after the jump.
With the tax increase, a pack of cigarettes will now go for a little more than $9 -- and almost $11 in NYC (which has its own excise tax). [NYT]
The American Lung Association figures the tax increases will "encourage" about 120,000 adults to quit smoking. About 18 percent of adult New Yorkers were smokers in 2009 (around the median for all states), according to the Centers for Disease Control.
If you're more graphically inclined, there's a chart above. New York is marked in dark orange, adjacent states in a lighter orange.
Per pack cigarette taxes by state
Sources: The Campaign For Tobacco Free Kids and Wikipedia
photo: Flickr user courtney____
Hi there. Comments have been closed for this item. Still have something to say? Contact us.