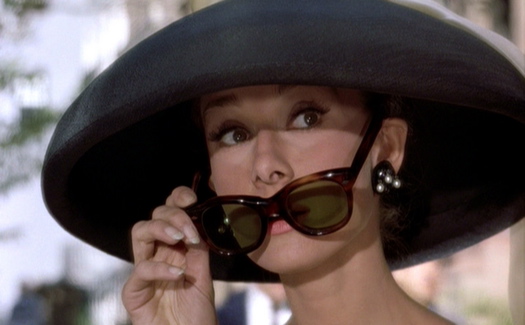 By Kaitlin Resler
It's officially the first week of summer.
So AOA fashionista Kaitlin Ressler did one of her favorite things. She hit the mall looking for what she considers this season's essentials.
After the jump, essentials for women. (Next week, essentials for men.)

Straw Hats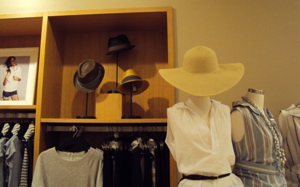 I think almost nothing brings to mind summer like a good straw hat. For a while there I banished them, thinking only strange ladies in scary bathing suits wore them to the beach, until I learned that not only does a neat little hat keep the sun from maliciously blistering the bridge of one's nose, but it's just the item to make a simple summer frock into a real-life outfit. This jaunty little hat display at J. Crew shows off some fedora-esque versions and one giant floppy variant (for those of us who need extra shade or accept the challenge of a large hat) running from about $35-$40. If that's more pennies than you'd like to hand over for a head covering, check out the men's section of H&M or Forever21 for the trendiest and frugalist versions.
Flip Flops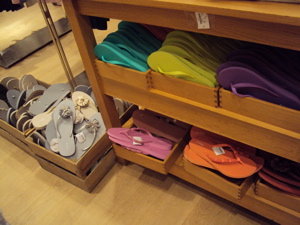 The ubiquitous flip flop. Its cry sounds throughout the streets and down hallways. They lie in little rainbow piles in the corners, or stay tucked into the bottoms of bags for when the fashionable sandals become unbearable. Leather versions with neat or fancy thongs embellished with jewels are to be found in shoe stores all over, but it's the cheapie rubber versions that are essential to summer. To overcome the mildly hideous nature of a rubber shoe one must run with the flops and go for color! Thankfully, Old Navy supplies the freshest versions priced at two for $5, and J. Crew also offers plain neons next to their rubber versions festooned with all manner of ribbons and shiny bits ($7-$14.99). If you're going to wear a rubber flip-flop, might as well make it colorful and thrilling, much in the manner of the wet-weather wellie.
Neutrals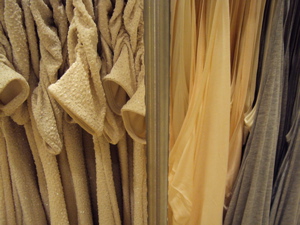 Wandering around the stores in Crossgates and elsewhere, I noticed piles and piles of the palest dusty rose colors, taupes, beige, and variants of the neutral. Vaguely pink and in soft jerseys or gauzy fabrics, the trendiest stores seem to be offering this color palette for summer and I have to agree that the colors set the mood for the best kinds of summer days--while from a practical standpoint the colors keep cool.
The Sundress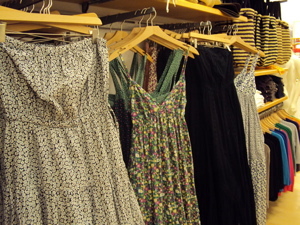 The woman standing in the field surrounded by summer light, waving grass, fireflies, or golden sun is usually wearing a sundress. It's the ultimate in summer ease--tossed on by itself or over a bathing suit, under a cardigan at night, in a myriad of styles there is no getting away from the easy-as-pie sundress. Just about everyone is piling them in store displays, but over the past few weeks I've noticed some markdowns that just happen to coincide with our warmer weather and sunny days.
Gap's floral maxi dresses are on sale with an additional 40% off, and I also spotted some plaid versions with stretchy bodices to allow for more coverage.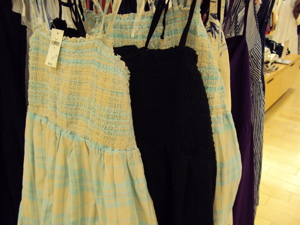 The search for the heart's one true sundress will take you to just about every store in the mall, and this summer's selections of florals and retro prints will not disappoint.
Tote Bags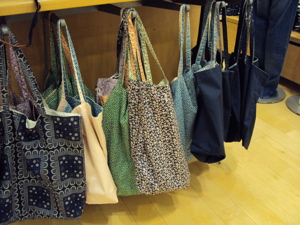 Tote bags are for every season, but I find them essential during and specially suited for summer days. Slouchy, casual canvas that's allowed to get just the tiniest bit grubby (just a little--too much just gets gross) and worn-in looks so cool with a breezy summer dress. Plus, it's the perfect bag to toss in a pair of sandals and a book, or an umbrella for summer showers.My favorite find of the season so far is this $3 tote (three dollars!!!) from H&M. It's just the right size, and with a few navy stripes it becomes graphically interesting without being too precious. And even though it costs less than a fancy coffee drink, it's got sturdy straps to keep it from tearing as you dash about summer adventures. Also check out the $7 totes at Forever21--which are neat for their illustrative qualities--and Gap's reversible floral market tote (it rings in at $15--perfectly acceptable but I'm waiting out for a sale).

Hi there. Comments have been closed for this item. Still have something to say? Contact us.