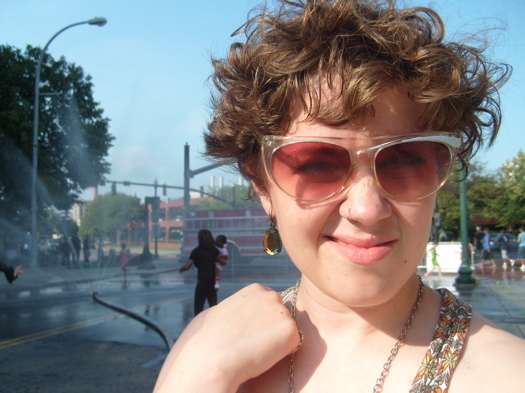 AOA is taking a little R 'n R this week, so we asked a few members of the crowd to help us out a bit. We're on a sort of stay-cation, so we asked a handful of folks what they enjoy doing with their Capital Region summers.
First up, urban chicken keeper and bacon hot chocolate lover Emily Armstrong.
A little about Emily:
I grew up in Saratoga and moved to Albany to go to St. Rose. Now I live in Troy. I love Troy. I like to be to be involved and actually have an effect on a place and you can do that in Troy. There's a lot going on, but it's not so established that you can't be part of it.
I keep chickens, I like to grow my own food, I'm involved in the Community Gardens and Tight Knit market.
What are your favorite things to do in the summer in the Capital Region
I'm a big fan of water. There needs to be water nearby for me to be happy. In the Corinth /Lake Luzern area there's a good place to go tubing. The Postenkill Gorge is a favorite of mine too.
My parents have a camp on Sacandaga Lake. I love Sacandaga. We've been camping there my whole life. The lake is pretty big, so you can bring boats out and the bottom is sandy but not murky -- good for swimming. I go fishing with my dad at the different lakes in the area.
When I lived in Saratoga they paved over a lot of the public kiddie pools and turned them into fountains... I'll run through those on a hot day.
I'm a big fan of treasure hunting and there's a lot more treasure hunting going on in the
summer months -- garage sale-ing and stuff. I like to make things so there's a lot
more stuff to get and opportunities to do that.
Summer is also a great time for me to spend a little time indoors too -- catching up on blogging and videos I've missed, renting library movies. I'll take a trip to the main branch of the Albany library and catch up on the candy of the library system -- the magazines, the movies, the CDs. I recently watched Synecdoche, New York.
What's your favorite local summer food?
Soft serve. I'm not a big fan of ice cream, but every time I drive by Kurver Kreme I need to stop and get a twist.
Do you have a favorite summer memory?
I have so many summer memories in the Capital Region...
I'm not into the touristy stuff... I remember mostly of simple things. Like getting a six pack of strawberry Crush and sitting in a parking lot and having my friends teach me to throw a football.
What do you like most about summers in the Capital Region?
I feel like there's a lot going on. You have to be looking for it to some degree, but if you have your ears open there's always stuff to do. And because I've been here for so long I just run into everybody that I love.
Hi there. Comments have been closed for this item. Still have something to say? Contact us.