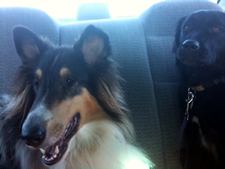 Sue emails:
I bought a used car from a friend who had a dog, and the car smells like dog...which isn't too great when it's hot and the windows are up because the AC is on.
Two different friends of mine have said I should get the car detailed, which I guess is an extra thorough washing, but I have no idea how to find a place...I am willing to throw down a few dollars to make the car fresh again, but would like to make sure that my money is well spent.
So maybe some of the AOA readers have some experience with this? Also, if they think a vacuum and some baking powder is the way to go, I welcome any DIY tips (although this is definitely one of those things that I would rather pay for).
Oof. We hope you have some suggestions for places Sue can get her car de-dogged. The Otto-mobile has also been kind of doggy lately -- so we could also use the tips.
Got a suggestion? Please share!
Hi there. Comments have been closed for this item. Still have something to say? Contact us.