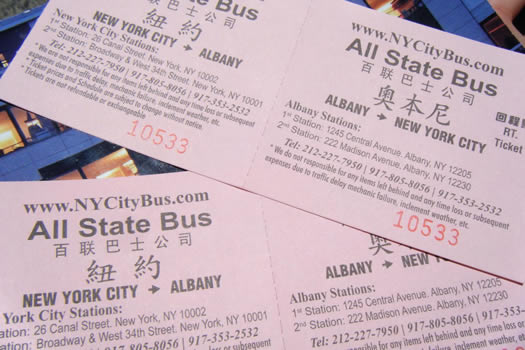 The NY City Bus line has raised its Albany-New York City fare to $20 each way. When we talked to a rep this afternoon, he said the $10 fares had been a promotional rate (not entirely surprising... it was really cheap). He said there's now a $5 discount when you book a roundtrip.
Thirty-five bucks to get to and from NYC isn't a bad deal. But it's a lost closer to the Megabus fare (anywhere from a few bucks if you're really lucky, to about $50) and the Dragon Deluxe (running its own $35 promotion right now).
Kalyn recently talked with a few people (among them, Albany Jane) about their NY City Bus experience -- and they sounded reasonably happy. Though, as a few commenters noted, the extra bucks for the Megabus do you get a few extras (air conditioning, wifi).
Good to know: NY City Bus is planning to start service from Saratoga Springs. The fare currently listed on the schedule is $20. The listed pickup point is near the Saratoga Springs Visitor Center on Broadway.
The rep we spoke with said they're hoping start the service August 1, but it could be later. He said their website would have the date when it's confirmed.
(Thanks, Andrew)
Earlier on AOA:
+ What's the new $10 bus ride to New York like?
+ NY City Bus -- competition for the MegaBus?
+ The best way to get from Albany to NYC?
photo: Albany Jane

Hi there. Comments have been closed for this item. Still have something to say? Contact us.