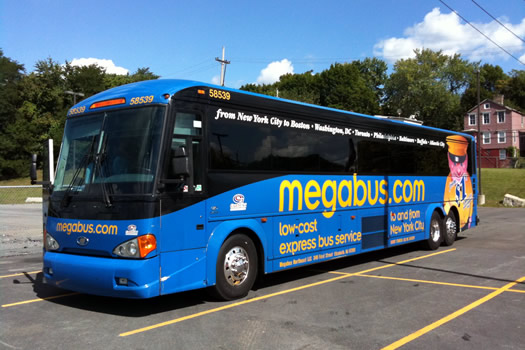 To New York City and back is a pretty common trip for people in the Capital Region. So... what's the fastest way? What's the cheapest? What's the best?
We ran the numbers almost two years ago -- but things change. So we did the math again, this time with even more detail.
The full breakdown after the jump.
All calculations are for one person traveling. Cost is roundtrip. Travel time is one way. Ranges reflect differences in schedules and peak/off-peak pricing. More fine print below.
Amtrak
$72-$102
2:30

The Amtrak train is our favorite way to travel to NYC and back. The train drops you off at Penn Station right in midtown Manhattan. It's not cheap, but it's easy and almost... relaxing. (Well, it is if it's running on time.)

Add on another $5-$8 if you park at Rensselaer station.
Megabus
$20-$48
2:45

The Megabus wasn't an option two years ago, but we're glad it is now. This may very well be the best way to get to NYC from Albany.

If you book ahead time, it can be very cheap (round trip fares starting at $20 are a reasonable expectation -- but sometimes Megabus has special fares as low as $1 each way). And bonus: the buses have wi-fi (that kind of/sort of/usually works).

Add on another $5 if you park at the pick up point at the Rensselaer train station parking lot.
Drive
$59.35
2:30-3:20

There are a lot variables for driving. We used the route through NJ and into Manhattan via the Lincoln Tunnel. That's 155 miles. Cost includes gas (30 mpg at $2.90/gal) and tolls.

Then there's parking. You can get it for as cheap as $10/day (which is what we figured) if you plan ahead. Of course, it can be much more expensive. And there's traffic, which can tack on a lot of extra time.

But, if you have a bunch of people and don't mind driving, this could be the way to go.
Drive/MetroNorth
$52.92 - $62.42
3-3:13

Driving to the MetroNorth station in Poughkeepsie is a popular option for people who don't want to drive all the way into the city because of parking or traffic hassles. Bonus: MetroNorth drops you off in beautiful Grand Central Station.

For just one person, this option can be cheaper than driving all the way. Our cost calculation includes gas, tolls, parking at the train station, and train fare.

The hitch: if you don't arrive just ahead of the train, you have to wait.
Drive/NJ Transit
$52.23 - $55.48
2:46-3:19

Anecdotally, this option seems to be less popular/known compared to MetroNorth. But it can be cheaper and easier. NJ Transit's station in Ramsey, NJ is very easy to get to -- it's literally right next to Rt 17. And it's a nice station with plenty of parking.

Our cost calculation includes gas, tolls, parking at the train station, and train fare.

Like MetroNorth, there's the schedule hitch: if you don't arrive just ahead of the train, you have to wait. And there's an extra connection on this route -- you have to switch trains in Secaucus.
Adirondack Trailways/Greyhound
$58
2:45-3:30

Taking the Adirondack Trailways/Greyhound bus is not glamorous, though it is relatively cheap. But if you're going to take a bus, the Megabus might be a better option.
Dragon Deluxe Bus
$50
3:30

Or, as it's sometimes called, The Chinatown Bus. It's pretty cheap. That's probably the one thing going for it. But, again, if you're going to take the bus, the Megabus might be a better option.

The pick up point is at 128 Central Ave in Albany.
Fly
$194.50 - $210
3-3:30

The last time we ran these numbers, this seemed like an absurd option. And now... it still seems crazy -- but not quite as crazy.

Perhaps because of competition from Southwest, prices on flights from ALB to LGA or JFK appear to have gone down (if you book a month in advance).

It's still not cheap. And it's not really all that fast when you take into account showing up to the airport early and then getting from the airports to Manhattan.

Our cost calculation included air fare (US Airways to LGA, Delta to JFK), parking at ALB, and ground transportation in NYC (SuperShuttle from LGA, shuttle to subway from JFK). Our time calculation included arriving at the airport one hour early, plus another hour for ground transportation in NYC.
The fine print: We did these calculations based on a one-person, one-day, round trip from Albany to Manhattan (either Penn Station or Grand Central) on a Wednesday. All prices are from the web sites of the respective transit modes -- except for air fare, which we got from Kayak. All riding times are from the respective transit schedules. All driving distances and times are from Google Maps. All tolls are from either NY Thruway or NJ Turnpike sites. Yep, we did use the EZ-Pass rates. We figured the hypothetical car got 30 mpg (which you should be able to get in a Civic, Camry, Focus or something similar on the highway). Based on the current average gasoline price from AlbanyGasPrices.com, we used $2.90/gal.
Trains run early. They run late. Sometimes there's traffic. And prices can change. Your mileage -- in every sense -- will almost certainly vary.
The Bottom Line
Amtrak can be the fastest (and easiest). Megabus is often the cheapest. The drive/train option is also often a good option. Unless you're traveling with more than two people, driving all the way is probably not worth it.
Say Something!
We'd really like you to take part in the conversation here at All Over Albany. But we do have a few rules here. Don't worry, they're easy. The first: be kind. The second: treat everyone else with the same respect you'd like to see in return. Cool? Great, post away. Comments are moderated so it might take a little while for your comment to show up. Thanks for being patient.