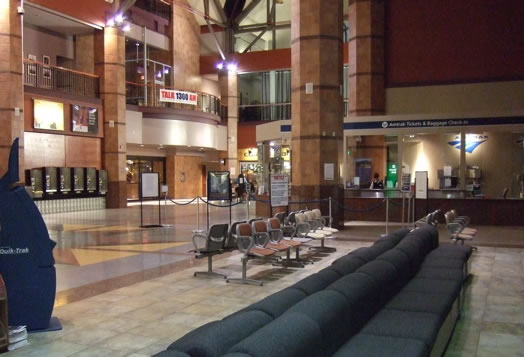 Update! We ran the numbers in 2010 with updated figures and even more detail!
____
It's a pretty common trip for people in this area. But what's the fastest way? What's the cheapest? What's the best? We've done the math so you don't have to. The full details, including explanations, after the jump.
(All calculations are for one person traveling. Travel time is in hours one-way. Cost is calculated for roundtrips.)
Bus (Adirondack Trailways)
$76
2:45
It's not glamorous, but it gets you there pretty cheaply.
Bus (Dragon Deluxe)
$45
3:00
This is the cheapest option, but it's no frills and, um, we've heard stories about these "Chinatown" buses. Upside: you can say you were on The Dragon Deluxe.
Train (Amtrak)
$98
2:30
This is probably the easiest option. Hop on in Rensselaer and get off right in the middle of the city at Penn. And it's not really that much more expensive than the traditional bus.
Driving and Train (MetroNorth)
$52.39
3:10
Driving to Poughkeepsie and hopping the MetroNorth has been the savvy way to get to NYC for years. Bonus: MetroNorth takes you to Grand Central. There are complications, though. That 3:10 travel time is a best case scenario -- if you miss the train in Po-town, you have to wait.
Driving and Train (NJ Transit)
$52.27
3:00
Here's one you maybe don't know about it. You can drive to Ramsey, NJ and take NJ transit into Penn Station (and it's ever-so-slightly cheaper than Poughkeepsie). The upside: it's super easy -- Thruway to Rt. 17, which literally goes right past the station in Ramsey. Downside: the travel time on the train varies. Sometimes its 40 minutes, other times it's 70 minutes. And if you miss a train, you gotta wait.
Driving
$200.49
3:00
The cost and time involved with driving can vary wildly. It's theoretically possible to make it to the city in about 2:45, but that's with no traffic. And if there is traffic, it could be 4 hours. Also, gas and tolls are 50.49 for this method. The wild card is parking. We figured 10 hours of parking in Manhattan at $15/hour. You might be able to find cheaper. And you might also find it even more expensive.
Fly (to Newark)
$348.00
2:30
We're not sure why you'd fly, but it's possible to take Continental from ALB to EWR. In that travel time we're counting an hour for airport security and whatnot plus another 35 minutes on NJ transit from EWR to Penn Station. It's also possible to fly into LGA and JFK, but the fares are even higher and you probably won't get to Manhattan any quicker.
Fine print: We used a number of assumptions in doing these calculations. We figured that the car being used would get 30 mpg for the trip and gas costs $3.30 a gallon. Tolls were counted using E-ZPass. Travel times were figured using best-case scenarios -- we didn't count missed trains or traffic. Also, most of the fares were off-peak -- if you travel during rush hour you'll pay more. Some of these options will also vary depending on the size of the travel party. As with everything like this, your mileage will vary -- in every sense of the phrase.
The Bottom Line
The Chinatown bus is the cheapest, Amtrak the fastest. If you're just one person headed for the City, take the train.
Hi there. Comments have been closed for this item. Still have something to say? Contact us.