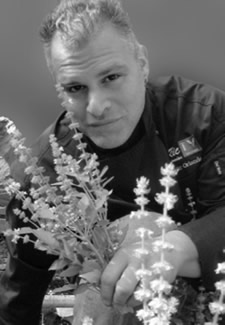 Update: Here's a recap of the episode.
We got word from chef Ric Orlando this morning that he competed on the Food Network show Chopped -- and his episode will air for the first time this coming Tuesday.
The show works like this: four chefs open baskets containing mystery ingredients (usually with odd, seemingly mismatched items), which they have to use to prepare an appetizer in 20 minutes. They race to cook. Judges taste the dishes, one chef gets "chopped." And it's on to an entree round, another mystery basket, another chopping and then a final dessert round. The winner gets $10,000.
It looks like it's pretty intense for the competitors.
Here's the Food Network blurb for the episode with Orlando:
The judges are curious to see what is in store for them when one of the competitors breaks out the wok. And some of the chefs appear less than confident when they present the appetizers made using trout and white chocolate. Then, creativity abounds in the Entrée Round, when the chefs get a whole new set of mystery ingredients including whole coconuts. Alas, two Japanese ingredients appear in the dessert basket, and the judges hope the final course will be as impressive as the previous two.
The first run of the episode is 10 pm Tuesday.
Ric Orlando is, of course, the chef/owner of New World Home Cooking in Saugerties and the chef/consultant at New World Bistro Bar in Albany.
Yep, New World Bistro Bar advertises on AOA.
photo via Ric Orlando