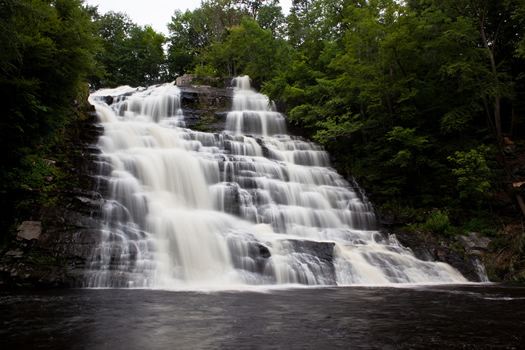 Update 2012: The Nature Conservancy is closing access to the falls for summer 2012 because people weren't following the rules.
It's shaping up to be another hot day. Flipping through this photoset Sebastien passed along from the Barberville Falls in Postenkill makes us a feel just a little bit cooler.
Sebastien says he was at the falls last weekend -- and it sounds like he a had a good time. There is a view of the falls from a Nature Conservancy preserve. It might be a fun spot to check out (especially if you include a stop at Moxie's for ice cream).
Earlier on AOA: An even better look at the Cohoes Falls
photo: Sebastien B
Update: This post has prompted an interesting conversation (below) and it's worth reading. It's also worth emphasizing a few points:
+ A significant section of the area around the falls belongs to a private homeowner. Signs on their property clearly indicate people are not to trespass. It appears the homeowners are very serious about this point.
+ The state police will respond when people are seen trespassing.
+ The other section of the area around the falls is owned by the Nature Conservancy. While open to the public, it's still private property -- and there are rules. They're posted onsite. You should follow them.
+ If you do go, you should make sure you are entering the area on the Nature Conservancy land. This entrance is off Blue Factory Road.
+ It's a beautiful spot. It'd be a shame if the conservancy was prompted to restrict access to it because of rules violations.
Find It
Barberville Falls
Plank Rd
Poestenkill, NY 12140
The trail head for the path to the falls is off Blue Factory Road.
Hi there. Comments have been closed for this item. Still have something to say? Contact us.