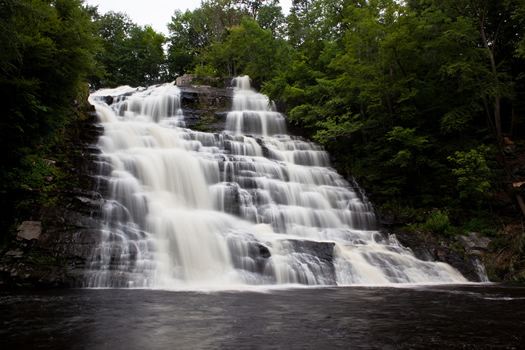 The Nature Conservancy is closing public access to the Barberville Falls in Rensselaer County this summer because it says people aren't following the rules there. From the org's press release:
Despite effort to prohibit swimming and other activities not allowed at the preserve, misuse of the preserve and disrespect for the preserve neighbors continues to be a problem.
"The decision to close the preserve, especially during the summer months, is a difficult one," said Rick Werwaiss, executive director, The Nature Conservancy Eastern New York Chapter. "In past years, the Conservancy has hired a security force, utilized volunteers, and had staff on site to patrol the preserve. Despite our efforts to discourage and control the misuse of the property, the problem has persisted and we feel closure is the only option currently available to us."
Closing the preserve will give the police the ability to strictly and consistently enforce the recurring issues of trespass, disturbing the peace, littering, swimming and climbing on the falls, and alcohol consumption.
The Nature Conservancy owns one side of the falls -- the other side is owned by a private homeowner. And as we found out when writing about the falls a few summers back, the homeowner is very serious about people not cutting across their property to reach the falls. That's understandable -- we wouldn't want hordes of people walking through our backyard all summer, either.
The conservancy says access to the falls will be closed from Memorial Day until Labor Day.
The whole situation is unfortunate. It really is a beautiful spot.
Earlier on AOA: Capital Region waterfall walks
photo: Sebastien Barre
Find It
Barberville Falls
Plank Road and Blue Factory Road
Poestenkill, NY 12140
Hi there. Comments have been closed for this item. Still have something to say? Contact us.