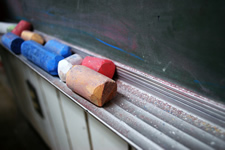 The state Education Department released results from the English and math proficiency tests for grades 3-8 this week.
So, we pulled out the results for Capital Region school districts. A compact, easy-skim version is after the jump -- with links to more detail. (If you want a school-by-school breakdown, NYSED makes that available, too.)
On to the data, some of which are sobering...

A few things before we dive in:
+ Scores are down considerably this year because NYSED changed the cut off points for what's considered passing (levels 3 and 4). [NYT]
+ The numbers below represent the percent of all the students (grades 3-8) who took the tests in each school district that passed. Obviously, that's a bit blunt -- the links that follow each county breakdown have grade-by-grade and test-by-test detail.
Albany County
Rensselaer County
Rensselaer County expanded view
Saratoga County
Schenectady County
Schenectady County expanded view
Earlier on AOA:
+ Capital Region high school graduation rates 2009
+ Projected Capital Region school district per-pupil spending 2010-2011
photo: Flickr user Kyle McCluer
Hi there. Comments have been closed for this item. Still have something to say? Contact us.