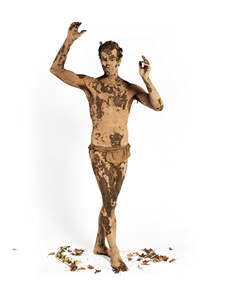 MASS MoCA has a new exhibit opening this weekend -- and you might recognize the artist: Leonard Nimoy. Yep, Spock.
From the MASS MoCA blurb for Secret Selves:
Inspired by Aristophanes' theory that humans were once double-sided creatures with two heads and multiple limbs before Zeus cleaved man in two and left him forever struggling to be whole again, Nimoy's photographs reveal his subjects' other half. Shooting in nearby Northampton, Massachusetts, Nimoy recruited volunteers from the local community with an open call for portrait models willing to be photographed posed and dressed as their true or imagined "secret selves." From the popular rock star and superman to the more unexpected dog lover and Pan, these various secret identities (off-line avatars as they might be described) offer an intimate, sometimes humorous, and often profound new look at the residents of Northampton and the inner yearnings and fantasies that we all share.
Nimoy apparently has been a serious photographer for decades. From a NYT article this week about the exhibit:
Mr. Nimoy, who for more than 40 years was Spock, the pointy-eared, half-Vulcan science officer on the Starship Enterprise, has been an accomplished photographer for nearly that long, and his work has been collected by several museums. He has been taking pictures since he was 13, when he developed them in the family bathroom in Boston's West End, and in the early 70's he studied at the University of California, Los Angeles, with Robert Heinecken, a conceptual photographer so rigorous, Mr. Nimoy said recently, that he thought if you happened to see a body falling from the sky, you would be wrong to take a picture of it unless you were already embarked on a study of objects moving through space. Anything else was mere photojournalism.
And from an interview with the Onion AV Club:
In 1970, 1971, I considered changing careers. I had done three seasons on Star Trek and two seasons on Mission: Impossible, five consecutive years of television acting, interspersed with some theater work, and I went to UCLA to seriously study photography. I had a great experience; I was very inspired by the teacher there, and that's where my work really turned toward the conceptual. But I realized that the kind of photography I wanted to do was not commercial. I didn't want to do commercial work. I couldn't make a living at it.
Here's more of Nimoy's work.
Secret Selves opens August 1 (it opens to members on Saturday). And, of course, there's a whole bunch other stuff to see at MASS MoCA, including Material World and the ongoing Sol LeWitt retrospective.
Earlier on AOA:
+ Road Trip: North Adams & MASS MoCA
+ Sol LeWitt charts well at MASS MoCA
photo via MASS MoCA