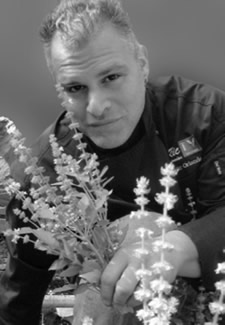 After New World chef Ric Orlando emerged victorious on last week's episode of the Food Network show Chopped, we thought it would be fun to get the backstory on how all it went down.
Among the bits that came up during the conversation: his zen approach to the challenges, being judged, editing, celebrity chef Alex Guarnaschelli's seemingly snippy comments -- and what he did with the prize money.

How did you get hooked up with the show?
About four years ago I auditioned for a different variation of this same show through City Lights Productions. They were looking for judges. They told me I did really well, but about a year went by and I got a letter telling me the show was sold.
Then about a year ago I got another letter telling me to come down and do another screen test. So I did. And they said "you did great, we want you to be a contestant."
I said, "Contestant? I want to be a judge."
I thought, "I'm a little too grown up to be competing with a bunch of sous chefs." So I thought about it for a while, and then I figured -- why not. It'll be fun.
It's a really popular show. They were just renewed for three seasons so they have lots of openings -- they're looking for chefs right now. It's a really good opportunity and I'd recommend it to other chefs.
But you do really run the risk of making an ass of yourself. It really is a little like the town square with the blockade and the guillotine. (laughs) I mean what's the name of the show, right? We humans like to sit around and watch people suffer... we've always done it in one way or another -- it's just human nature. We love to watch people under pressure.
Did you do anything to prepare for that pressure?
You know, my wife and her sisters -- she's one of nine kids and there are five sisters and they're very smart and competitive -- they tortured me for months. They knew I was going to be on so they'd watch the show and they'd say things like, "OK, trout, Chesterfield cigarettes and red wine -- Go!" (laughs)
But my wife and I worked on this zen idea: when you see the ingredients, think of how they relate to what you've previously made that you like -- not what you think will impress the judges. So I tried to stick with what I've already done. I do a scallop dish with white chocolate and chipotle... so when I saw the white chocolate and the trout, I thought of that.
I saw the show for the first time when everyone else did. So when I saw the part where I looked at the coconut and raisins and greens and I laughed -- that's where I was thinking, "I'm gonna make jerk chicken." Stick with what you know.
I've done a couple of culinary competitions and I've done well, and when I didn't it was because I decided to cook for the judges.
I'm a good improviser... but at the restaurants I don't improvise. I come up with a dish and I tweak it and tweak it. Then I put it into the computer and it gets followed exactly so there is consistency.
"At one point I was throwing food at the plate from three feet away! "
You really seemed to keep your cool, in spite of the pressure. Not all the contestants are able to do that. Is that why?
I don't know if I was cool as it seemed. It's a 14 hour day -- and it's a reality TV
day, so in between they're doing these OTF -- on the fly -- interviews. And they're trying to get you to say the right thing for reality TV, but the wrong thing for yourself. The most exhausting thing is remembering that you're on like a politician at a press conference.
Some of it was my personality. I'm very intense but I'm not hot-blooded intense, I'm focused. I've also been on TV a lot.
As far as the cooking goes, I could have lost -- and I knew that. But I've been employing people in a kitchen for 25 years, so I've got so much experience being in charge of a kitchen that when I'm in a kitchen, I'm in charge of it. It's a default position. And my competitors kind of reminded me of some of the younger chefs I've worked with over the years.
How uncomfortable is it to stand up there and watch the judges eat your food?
It's very uncomfortable in a way -- especially because under the conditions I knew there's no way I put my best foot forward. You don't see it in the edit but you're completely out of your element in those conditions. At one point I was throwing food at the plate from three feet away!
But to me, the judges are all my peers. It's hard to be judged by your peers, but it's easier when you feel like you're in the same league as them. I don't want that to sound arrogant -- I respect them all, but I'm not intimidated because they're New York City chefs. Yes, they're all great chefs -- I know what they make.
But I think all the judges were happy for me because I am their peer -- I am old school. I think they were happy that a person in their age group won.
Did you and Alex Guarnaschelli hug it out at the end?
(During the episode, Guarnaschelli is shown making critical comments about Ric's process and offering grudging praise.)
The thing that is interesting to me is the way that show is edited -- by mostly 20-something reality program editors. And they're brilliant in the way they design and edit the piece together. They keep a journal on you throughout the day and when it's all over they read it back to you and have you comment on it in the first-person present. That's how they get all that voice-over narration.
But you stand in front of the judges and they talk to you for, I'd say five to fifteen minutes, and they'll edit out one or two comments -- and they need to get the ones with the most drama. There was one comment from Alex where she said something about me using 24 spices, and they edited out the second half of the comment which was something like, "because it was delicious and I could never have done that." And there was no way they would put that in because they need to create drama right to the end.
It was great with Alex, she and I spoke at the end and I asked her for a lead on a publicist. She plays tough. But she's great.

What did you do with the prize money?
I got the prize money in April. First my wife gobbled up half for bills. But with the other half I fulfilled a long term promise to my sons. We did a cross country road trip. We flew to San Francisco and rented a car and drove back through the desert. It was great! It's the first two week vacation I've had in 15 years. I wrote about it on my blog.
You've done a lot of television before, and you looked pretty comfortable doing this. Is there anything else in the works?
I'm actually finishing up a treatment that we're going to find someone to pitch. I have two treatments I've been working on. One is more of a farm to table show, and there are lots of those, but this is based more on the spices I use.
You talked about music a lot on the show, about creating food and being in a band. Are music and cooking connected for you?
Some people are artists and some are performers. I'm lucky to be a little bit of both. In my brain music and cooking are very much alike. Developing dishes is like writing songs. No one makes up music out of the clear blue sky. You're influenced by things that happen and other music you hear. I once wrote a song that was played on a college radio station and a buddy of mine said, "Doesn't that sound a lot like Ruby Tuesday?" I never realized it!
In food development I eat at other places and read magazines. The development of the menu is like production, and the restaurant is like a gig -- that's where we make sure we're tight and the harmonies are right and everything is coming together. And that's where you get applause -- for the service.
This interview was edited and condensed.
____
Ric's episode is scheduled to run again on August 13 at 8pm.
New World Bistro Bar in Albany, at which Ric is chef/consultant, advertises on AOA.
photo via Ric Orlando
Say Something!
We'd really like you to take part in the conversation here at All Over Albany. But we do have a few rules here. Don't worry, they're easy. The first: be kind. The second: treat everyone else with the same respect you'd like to see in return. Cool? Great, post away. Comments are moderated so it might take a little while for your comment to show up. Thanks for being patient.