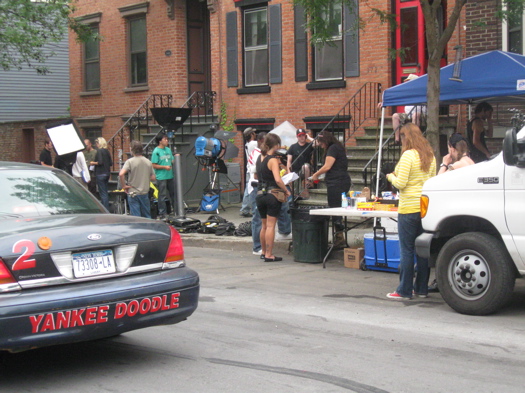 OK, so as it turns out, the current working title of the movie currently filming in Albany is, in fact Sister Spirit -- though you'll have more luck finding info online searching for Ass Backwards, the original title.
Molly Conners, a Capital District native is one of the producers of Sister Spirit (she also co-produced the Oscar-nominated Frozen River, filmed in Plattsburgh, starring Melissa Leo). Conners took a few minutes from the set today to answer what she could about the movie, working in Albany, and yesterday's unfortunate Hamilton Street towing incident.
OK, lets start with the towing. Conners says she and the film crew felt really badly about the whole thing. They paid to have the "No Parking" signs put up, but they expected they would have gone up sooner.

"We were actually begging people not to tow the cars. We worked with the Albany police, and they've been great. They've agreed to reimburse the four people who were towed, and to rescind any tickets. So anyone who was towed should definitely let them know."
Conners is still contractually obligated to keep the lid on the casting for Sister Spirit, (according to IMDB the cast includes Alicia Silverstone, Jason Ritter, Amy Sedaris and Melissa Leo -- and there are rumors about Kate Hudson), but she describes the film as "kind of a female Dumb and Dumber -- two 20something girls living in New York City, feeding their own delusions."
They'll be filming in Albany for one more week, then they'll shoot the rest of the film in
New York City and Los Angeles.
So why have things with this production been so hush-hush compared to Salt, The Other Guys, and some of the other films made in the Capital Region?

"Those are studio films with much bigger budgets," says Conners. With a really low budget film, she says they have to get through it as quickly and inexpensively as possible, which means trying to avoid distractions.
She says it's been great working in Albany and that being from the area (she grew up in Loudonville) she really likes working here.
"In New York [City] someone is making a movie on every corner. Here you have more locations open to you and people are really nice and helpful. I'd like to encourage people to make more films in the Capital District."
Hi there. Comments have been closed for this item. Still have something to say? Contact us.