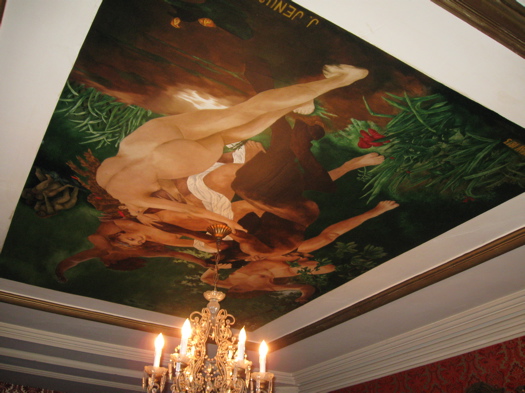 Yesterday, while we were on Hamilton Street checking out the set of that movie (whatever it's going to be called) we got a quick look inside the house where they're filming.
Turns out the 140 year old brownstone is kind of interesting on its own, even without a movie crew hanging around.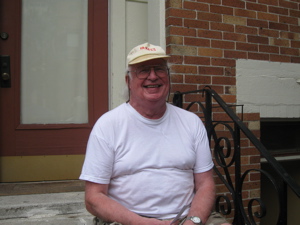 Bob Monaghan, a retired Spanish teacher, was sitting on his front steps at 372 Hamilton Street a few months ago, when a location scout came by and asked to take a few pictures of his home.
"The first floor living room is red and when I turn on the lights in there, the room kind of glows. "
The red glow might be what attracted the scout, but the living room wasn't where they ended up filming. Crews are in the basement of the 1870 brownstone, where the walls are covered with green grasscloth wallpaper. Monaghan says he put it up shortly after he bought the house, in 1970. "They had to take down everything on the walls, and when they did, I realized how much the green on the grass paper had faded. I think they were looking for the feel of a cheap basement apartment on the West Side of Manhattan."
The movie people also had to take down Bob's fully functional gas chandelier. "It's the only working one in the city that I know of. They'll replace it when they're done."
While he couldn't take us in to see the basement, he was excited to show us the living room ceiling, which is painted with a replica of Bouguereau's Nymphs and Satyr.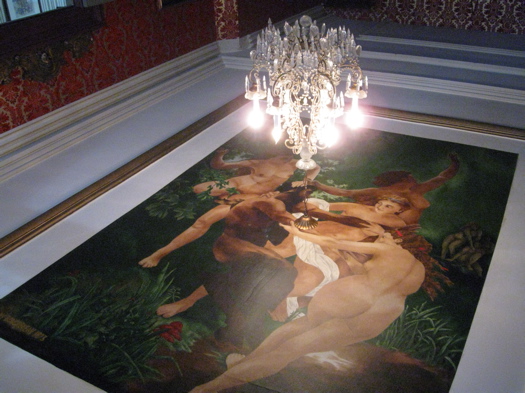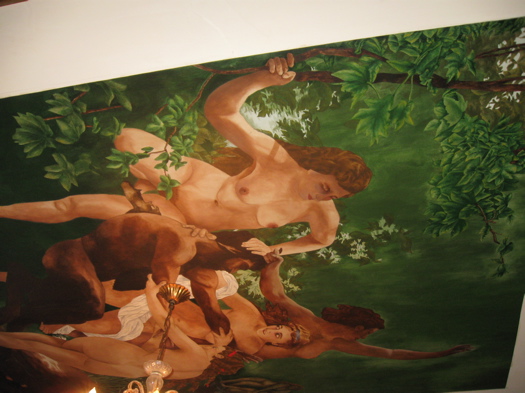 "I saw this painting in The Clark, and I fell in love with it. I said 'I have to have it in my living room!' So I bought a post card and a friend copied it and we mounted it on the ceiling above the chandelier.
Bob says the house was built in 1870 by a Captain MacAllister. "One of his kids scrawled their name in the third floor window and it's still there. After I had the painting, I realized that it was completed in 1872 -- so if Captain MacAllister had wanted to have the newest art of the time in his home... it might have been that."
Back in 1970 Bob and his wife paid $10,500 for the Center Square brownstone (about $59k in today's money), and an extra $1,000 for the carriage house behind it (about $5,600 today). Yes, an extra $1,000 for a garage in Center Square.
"That was when everybody was running for the suburbs. I'm a city creature. I'm never leaving this house. They'll carry me out of here in a box."
Hi there. Comments have been closed for this item. Still have something to say? Contact us.