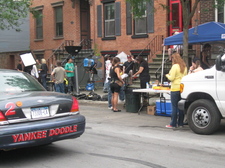 Sister Spirt, the movie that's been shooting in Albany, is looking for "sisters" to be extras in scenes next week.
An email from the casting director is after the jump -- it also includes details about who's starring in the movie (Alicia Silverstone, Vincent D'Onofrio and a few other actors you might recognize).
Oh, and if you play the didgeridoo, here's the chance you've been waiting for...
____
Please send your responses to Casting Director RITA POWERS at booked77@aol.com. Do not "reply" to this email!
This is Rita Powers, I am the Casting Director for Sister Spirit.
This film is an R rated, irreverent chick comedy starring June Raphael and Casey Wilson. The two of them set the stage for themselves as comedy actors a few years back with a long running show called Rode Hard and Put Away Wet. They've since starred in many comedies and television shows and wrote the film, Bride Wars. A host of other comedy stars are in this film including Alicia Silverstone, Vincent D'Onofrio, Sandy Martin, John Cryer, Epatha Merkerson and more.
We will be shooting the scenes for 'Camp Sister Spirit' here in the Albany area on August 10th and 11th. We are looking for a dozen 'sisters' to play as extras in the film as the community members.' Extras will be paid SAG scale extra rate of $135.00-8 hours for their time which will likely be an 8 -10 hour day. Movie making is interesting and fun but can also feel like a long day.
In the script it calls for a sister who plays a drum and a sister who plays a digiridoo if there happen to be any in the area! Our director would love to see digital pics of anyone interested if possible.

Please Contact:
Rita Powers Management LLC
295 Greenwich St.- #513
New York NY 10007
212-965-1683-office phone
917-576-9478-mobile
732-477-9079-fax
Hi there. Comments have been closed for this item. Still have something to say? Contact us.