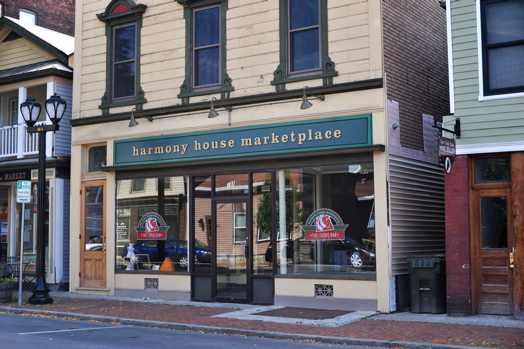 By Jessica Pasko
Okay, okay, I'll admit it - I don't think of New York when it comes to choosing a wine. And I'm definitely not alone in that thinking.
The folks at Harmony House Marketplace's The Wine Seller are hoping to change that.

I checked out this place the other day while exploring Cohoes. It's a store entirely devoted to wines from the Empire State. How could I not be intrigued by that? I tasted a few and while I'm still not totally sold on them - I prefer dryer reds and NY's most prominent wines tend toward white and sweet - I was stoked to find another place to purchase the Slyboro hard ciders I've tasted at the Troy farmers' market.
The store features wines from about 100 of the 270 wineries in New York, which is believed to be one of the largest selections of New York wines in the state. The Finger Lakes wineries make up a bunch of the store's selections, unsurprisingly, along with a number of wineries from Long Island. There's also several very local wineries represented - including the Hudson Chatham winery, which impressed me last year when they launched New York's first malbec. Unfortunately, that batch is long-gone but one of the folks running their stand at the Schenectady Greenmarket told me another is coming soon.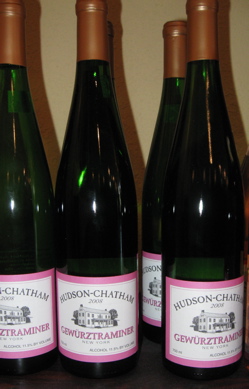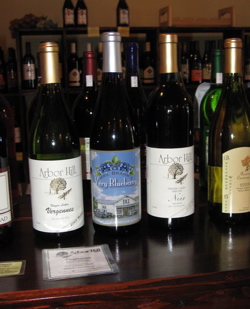 I was also surprised to realize Manischewitz is NY-made.
The shop does weekly tastings on Friday evenings from 4- 7 p.m. and owners Diane Conroy-LaCavita and Jane LaCavita-Clemente sometimes arrange adult "field trips" to wineries across the state.
Of course, what's wine without cheese? Sean O'Connor , formerly of Four Brothers Dairy Goat Farm, now runs his own creamery out of the Harmony House Marketplace complex. Through R&G Cheesemakers, he produces a number of goat cheeses, including a goat mozzarella. His Eclipse cheese, an ash-ripened variety, was recently selected as one of the cheeses for the U.S. Open.
Be sure to check out the rest of the Harmony House Marketplace while you're there. The bakery features a wide array of breads, cookies, pastries, sandwiches and other baked goods, along with a small selection of various New York-made products, including jams, pasta sauces and honey. When the planned tapas bar opens - the owners are hoping for an autumn opening - this little complex will really have it going on. LaCivita-Clemente and Conroy-LaCivita have really done an impressive job.
Find It
The Wine Seller
190 Remsen St.
Cohoes, NY 12047
(518) 238-2232
Hi there. Comments have been closed for this item. Still have something to say? Contact us.