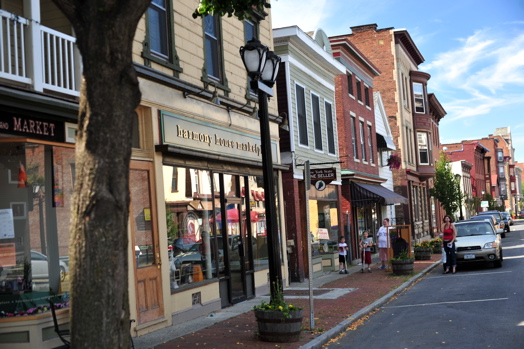 By Jessica Pasko
Lately I've been into taking little sojourns to areas locally that I've never really thought to explore. This weekend I headed to Cohoes in hopes of checking out the views of the falls from Falls View Park . Unfortunately, the lower sections were closed off, making for something of a boring trip.
While deciding where to go instead, I took a stroll down Remsen Street.
I have an affinity for the architecture of upstate's post-industrial towns and cities, and Cohoes definitely fits the bill. Some of the buildings are really impressive and I love the way they are juxtaposed with the several ornate Ukrainian churches in the area, with their big domes and gilded edging.
Remsen Street reminds me of what an old-fashioned Main Street would/should have looked like "back in the day," and it has a definite old-timey feel to it. It's a pleasant mishmash of convenient stores and tattoo parlors, a yoga studio, a store dedicated to new and gently-used purses and handbags, and one of the few independently-owned pharmacies I've seen in the area. There are also a few pizzerias, the long-lived Smith's Restaurant, a couple of thrift stores -- and even a store devoted to yarns and other knitting supplies, Beau Knits, where they offer open knitting sessions on Thursdays and Fridays as well as private classes. There's even a small but lively farmers market on Friday evenings.
However, the place that impresses me most is the Harmony House Marketplace, which includes a bakery that also sells various New York products, a wine store dedicated to New York wines, and coming soon, a tapas bar. I got a tour of the future restaurant and it looks like it will be really lovely when it opens, which is slated for some time in the fall. Diane Conroy-LaCavita and Jane LaCavita Clemente have really done some amazing work here and their commitment and Spindle City pride is kind of inspiring, really. More on that to come.
What really made an impression on me is just how friendly everyone I encountered was. I'm taking Mayberry-friendly, and I mean that as the highest compliment. It was the kind of day that made me feel pretty happy to be alive and well and living in the Capital Region, you know?
From the man selling copies of his memoir, "College and Eighth Street," on a small table outside Falls View Park to the two boys (and their mother) who took a great interest in why we were taking photos of their street, everyone just seemed to be really remarkably friendly. It was hard to resist grabbing a few shots of the two brothers, who were eager to pose on their scooters for us.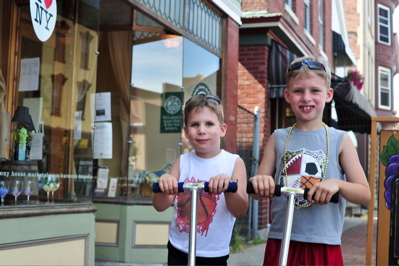 And Mayor John McDonald is one of the friendliest guys you could hope to meet, even if he's a neophyte in the kitchen.
Unfortunately, Dnipro no longer resides on the street, but Remsen does still have what's quickly becoming my favorite coffee shop, Bread and Jam. It's a great amalgamation of cool vintage furniture, a large performance space for local bands, comedy acts and other live entertainment, a good selection of books for your perusal, and friendly baristas. In addition to coffees and teas, they have a beer and wine list, and they offer a "jazz brunch" on Sundays. It's definitely worth making the trip to Cohoes for a performance here.
Next up from my trip to Cohoes: inside Harmony House Marketplace and the Wine Seller...
Previously on AOA: The ghost at Cohoes Music Hall
Hi there. Comments have been closed for this item. Still have something to say? Contact us.