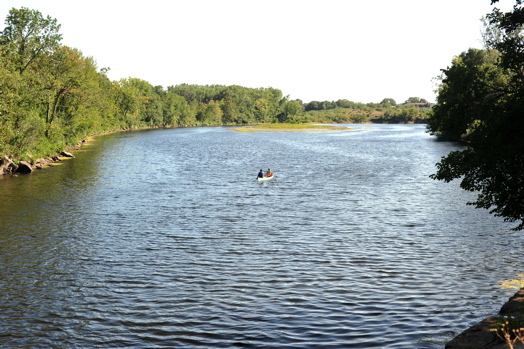 By Jessica Pasko
A recent Saturday spent exploring Cohoes led me to nearby Waterford, a quaint little place on the edge of Saratoga County that to me seems almost quintessentially upstate New York.
I don't know how I've managed to live here so long without having ever made a trip to Peebles Island in Waterford, right outside Cohoes. It's beautiful. One hundred and 91 acres of land at the confluence of the Hudson and Mohawk rivers.

Originally this lovely park found itself on the secondary list of state parks slated for closure, and there are still some parts of it closed off due to budget cuts, such as the visitors' center, for instance. The land used to be the bleachery (yes, that's exactly what it sounds like) for the Cluett, Peabody & Company, which was one of Troy's largest manufacturers of shirts and detachable shirt collars back in the days when the Collar City earned its nickname.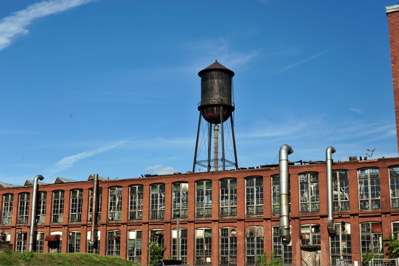 The bleachery though, a large complex of big, industrial buildings, was on Peebles Island, right on the river. Incidentally, the Rensselaer County Historical Society is housed in the Cluett-Peabody house in Troy and it's quite cool.
When times are less tough, a visitors' center is open in the complex. Even without that, I found it fascinating to roam around the old buildings and water towers, only parts of which have been renovated. I managed to completely miss a do not enter sign thanks to some worker accidentally leaving a gate open which allowed me to get an even closer look at the disarray until a kindly employee informed us we weren't actually allowed back there. Oops.
The park itself is quite lovely. Nice trails to walk, picnic tables and barbecues for riverside picnics, and the remnants of an old shipyard that was purchased by the state in 1989 in hopes of renovating it and making it part of the Peebles Island State Park. That hasn't quite happened yet, but it's still a cool spot to explore.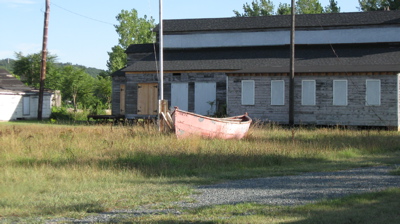 I could easily spend several hours here roaming around and relaxing, finding wild grapes and a variety of songbirds. A bonus point is that it has handicap-accessible docks that go right to the water's edge, replete with picnic benches.
Another aspect of the budget cuts that made an impression on me: you'll notice several parts of the park that have been allowed to grow wild and tall. Most of these have signs that say "naturalization in process." I took this to be a euphemism for "the state's broke so we can't mow."
The brickwork on the waterfront is also neat and is definitely worth a little strolll - it uses different colors of bricks to show the path of the Erie Canal/Hudson River through the state, with important stops highlighted along the way.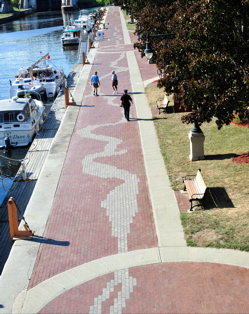 The footbridge that takes you right over the recently re-done waterfront in Waterford, near Lock 2 of the Erie Canal. Maybe it's my inner 5-year-old coming out but there's just something I really like about looking at boats. These days, I think it has more to do with fantasizing about the day I someday retire and can have my own giant sailboat with an equally cheeky name like "Easy Going" or "Slacker Daze," the names of two of the boats I saw this past weekend. For $15 a person, you can go on a canal boat tour. Shell out $425 and you get the boat for the day, but you have to captain it yourself. Anyone with a boat license? That sounds like a pretty good day out to me.
Find It
Peebles Island State Park

Waterford, NY 12188
Hi there. Comments have been closed for this item. Still have something to say? Contact us.