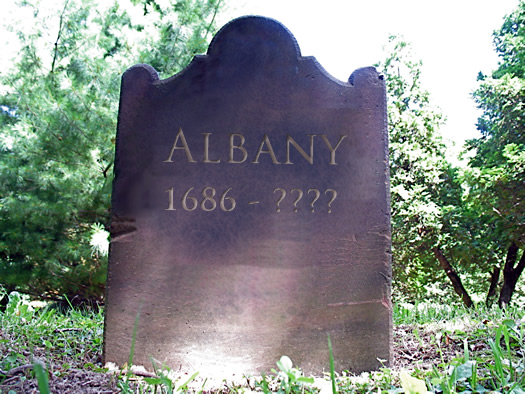 This whole "Albany is a dead city" thing just seems silly to us. Albany isn't dead. Unless this is some sort of Sixth Sense situation. Or maybe we're all zombies -- and Albany is actually an undead city. (What's for lunch? Braiiinnns...)
But, whatever... let's kick this around a little bit.
The site that tagged Albany as "dead" doesn't really define what exactly prompts a toe tag for a city. "Death happens when municipalities lose the industries and vital populations that made them important cities." OK. Important to whom? And by what measure? Social? Economic? Cultural?
A lot of the designation seems tied to 1) population loss and 2) faded glory. There are some references to poverty and tax bases -- but again, not a lot of details. (Really, why bother with details when you're just trying to generate pageviews and linkbait). Let's go through some points/issues/considerations.
Population
"The city's manufacturing industry helped the population to rise to 134,000 in 1950. it is now under 95,000." Yep, there are fewer people here. And a 29 percent decline in population is significant. No arguing about that.
Verdict: A serious bruise.
Prestige
"It was once one of the largest 'inland ports' in the world sitting near the place where the Hudson River meets the Erie Canal." Yeah, it's been at least a good half-century since the glory days of the Erie Canal. It'd be great to be that sort of node again. But we've moved on.
Verdict: An old wound. Let's call it nostalgia.
New industry
"The higher education institutions in the region have begun to help Albany become a regional center for information technology and the biotechnology industries, but these are not large enough to offset declines in the city's fortunes which began in the 1960s." By what measure? And what's the going exchange rate for assembly line workers and nerds?
A lot of post-industrial cities would be pretty happy to be a "regional center" of info and bio tech. You can't just brush off some of the investment that's been made here recently. Six billion dollars alone has been invested in Albany NanoTech -- which includes Sematech, the semi-conductor research consortium, moving all of its operations here (from it-city Austin, no less). And there's a lot more investment in the broader Capital Region (which we'll get to in a second). Would that happen if Albany was "dead?"
Verdict: Not really a malady. A bit like wanting to be taller.
Poverty, vacant housing
Neither poverty rates or vacant housing rates are mentioned in the blurb about Albany, but those are among the useful measures for taking the pulse of a city. Albany's poverty rate for all individuals is 25.3 percent -- that's high (the US is at 13.2 percent). And the city's vacant housing rate is 13.8 percent (the national figure is 12 percent), mostly likely concentrated in a few neighborhoods that have seen better days.
Verdict: An ailment worth attention.
Housing
Another measure not mentioned is the housing market. You figure if a city is dying or "dead," its housing market would be in serious trouble.
That graph above shows median sale prices in Albany over the last 10 years. Like much of the nation, the city did see a run up in prices as the bubble grew. And when the bubble popped? Well, there's been some decline, but for the most part prices have held more or less steady.
In most other time periods, no growth in home prices over three years wouldn't be good. But compared to the rest of the nation over the last few years, it's not bad at all. And the foreclosure rate here is tiny compared to the rest of the country.
Verdict: Somebody's been eating a lot of apples.
Regionalism
Here's where the "dead city" bit really starts to break down. Looking at any city out of its regional context is going to distort things a bit (for better or worse). And in Albany's case, we'd argue it's especially important to keep context in mind because of the structure of the Capital Region.
Based on population alone, Albany doesn't even rank among the 276 largest cities in the United States. But the Albany-Schenectady-Troy metro area is the 58th largest in the nation. So compared to most "name" cities in other metro areas, Albany makes up a much smaller piece of the whole pie. A lot of that has to do with the fact that the Capital Region, with four (or more) cores, doesn't necessarily have a concentrated center.
So, is it fair to look at the City of Albany alone in this picture? Well, a lot of people who live in surrounding municipalities work in the city. They go there for entertainment or education or medical care. They play a role in the economic, social and cultural life of the city. If you live in Guilderland or Colonie or Bethlehem, should you not "count" in some way for Albany (and vice versa)?
When you zoom out a bit, the vital signs look a lot better. For example, the Census Bureau estimates that Albany County's population has increased since 1990 (about two percent). And if you look at the four core counties of the Capital Region, population here is up more than six percent.
And regionally, the economic picture is OK -- not awesome, but OK. Unemployment is below the national average. GlobalFoundries is building a $4.2 billion manufacturing facility in Malta. GE is building a $100 million advanced battery factory in Schenectady. RPI and UAlbany turn out research that attracts money.
Verdict: Not so bad.
The state
New York State certainly has problems. But the fact remains it's a $130something billion a year enterprise. And its headquarters are right here. That counts for a lot -- notably jobs. Maybe not as many going forward, but it will still be a whole bunch of jobs.
Verdict: It is what it is.
That said...
Albany, the city, still has its fair share of problems. The school system needs to improve. Taxes are frustratingly high. There are some neighborhoods that are in bad shape. And, yep, the city just doesn't have the population it once had. These are real issues that need to be addressed (both in Albany and a lot of municipalities upstate).
This place will probably never be what it was. It couldn't be. But all this feels more like a period of evolution than a death sentence.
Earlier: Some thoughtful comments about the report of Albany's (greatly exaggerated?) death.
Hi there. Comments have been closed for this item. Still have something to say? Contact us.