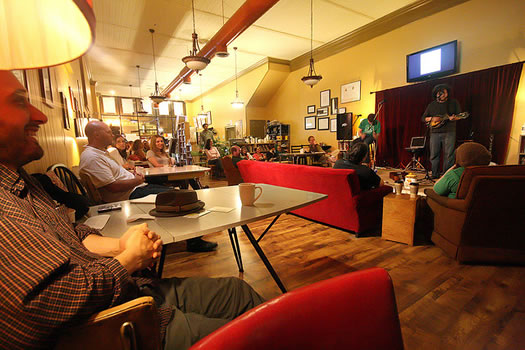 From a post this afternoon on the Facebook page for Bread and Jam, the coffehouse/cafe/performance space on Remsen Street in downtown Cohoes:
It is with the most profound sadness in my heart that we must announce to all of you that after two years of great food, drink, and music that Bread and Jam will be closing its doors permanently this Friday September 3rd. The past two years have been nothing short of a dream f...or me. Being a longtime musician, I always wanted to own my own music venue, and I was able to do that. I can never express in words what the friendships and experiences have meant to me here, and the fact that all of you got a chance to share that dream with me. My staff has always been there for me like family, going above and beyond anything I could expect from them. The musicians from all over the country have shared stories, and their great craft in our fine little space. But most of all there is no way I can ever thank our customers enough. Each of you believed in Bread and Jam enough to spend your hard earned money on a regular basis here, and make my dreams come true. Cohoes is a beautiful place with wonderful potential, and great people.
There's more at the page from owner Sal Prizio, who writes the cafe "finally ran into a financial wall that I just wasn't able to hurdle." Another message says the cafe's final day will be this Friday. "And yes, I will be hosting one more open mic this Thursday at 8pm."
Prizio was recently featured in the TU. When asked how the business was going, he replied:
We're hanging in there. It's a lot tougher than I thought it was going to be. I was under this perception that I was going to open this cool place, and everybody was just going to flock to it. And that's just not the reality.
We're sorry to see Bread and Jam go. It's a friendly, warm place and it had become a good spot for music.
Earlier on AOA: Remsen Street in Cohoes
(Thanks, Lou)
photo: Bryan Thomas
Find It
Bread and Jam
130 Remsen Street
Cohoes, NY 12047
Hi there. Comments have been closed for this item. Still have something to say? Contact us.