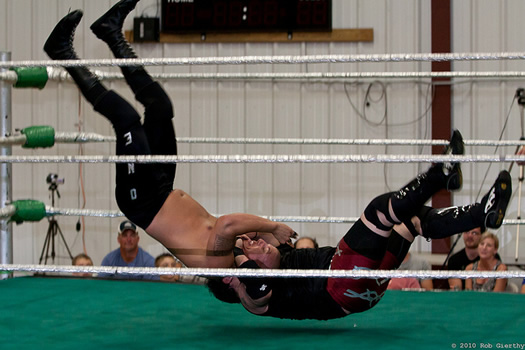 By Rob Gierthy
While at The Track Saturday, baking in the August sun waiting for the Travers to begin, I was talking with some guys and said that this was my first time photographing horses. They asked what I normally shoot.
"Roller derby," I replied.
"Seriously, or are you just messing with us?"
My answer was the "I <3 Rollerderby" button that I keep on my camera bag.
We talked about the local teams for a bit and then they told me about a wrestling event -- In Your Face Wrestling -- scheduled for that night in Ballston Spa, and that I should go take some shots.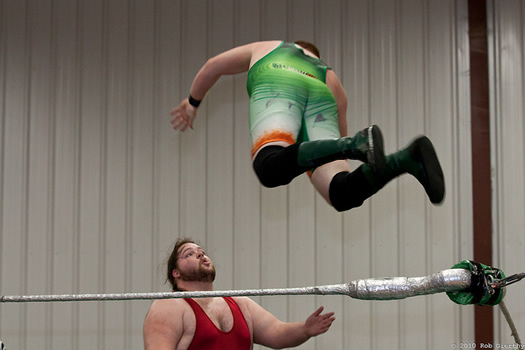 I agreed that it was up my alley, but I was noncommittal. After seven hours in the sun with little food and only the Big Red Spring and a couple lemonades to keep me going (I'm a cheapskate), I wasn't feeling that adventurous.
Heading home from the races, at the Ballston Spa exit, I found myself pulling off. Next thing I new I was in front of the Ballston Spa Community Center and about to enter a world of pain. Poorly acted pain, but I'm sure they will be feeling it tomorrow.
The ring was setup in the gym at the community center. Tents on one side hid the wrestlers as they prepared and let them make grand entrances, sometimes in masks and costumes that they would take off before entering the ring.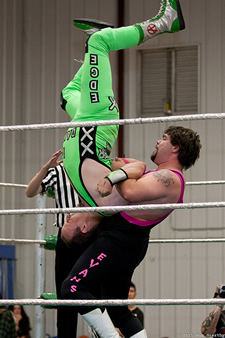 It was ridiculously cheesy, badly acted and very low budget. At the same time it was impressive. Sure they all knew what the next move was going to be, and on occasion someone would flub it, but still, jumping off of the top of the ropes or lifting a slightly overweight man over your head is something that I can respect.
It was an interactive experience. The wrestlers toyed with the crowd, the couple dozen that were there, and made it feel like you were really a part of the show. Hugs for the good guys, jeers for the bad. A white board some fans brought provided ever changing commentary to go along with the action. (Here's a recap of the night, likely written before he match ;).)
Here's the photoset from the night.
I could only stay for the first half, I was low on energy and space on my memory card, but in that thirty minutes I have been endeared to In Your Face Wrestling. I like it for the same reason I like the local roller derby and punk shows I find myself at. People doing what they love, not to get rich or even support themselves, but just because they love doing it.
Seats are $12 for general admission and $15 for front row (all ages), but the space is small enough that you will feel like a part of it no matter where you are sitting. Kids 6-12 are $8 and under 5 is free. There are snacks for sale during intermission and some t-shirts and DVDs are at the ticket table.
The next event is October 16 at the BACC. And on December 11 there's "Controlled Chaos!" at the new Saratoga Springs Recreation Center on Vanderbilt Ave.
PS: Please don't beat me up for saying it was badly acted.
Earlier on AOA: In 2009, Arielle checked out the Double M rodeo in Ballston Spa.
Find It
In Your Face Wrestling at the Ballston Area Community Center
20 Malta Ave
Ballston Spa, NY 12020