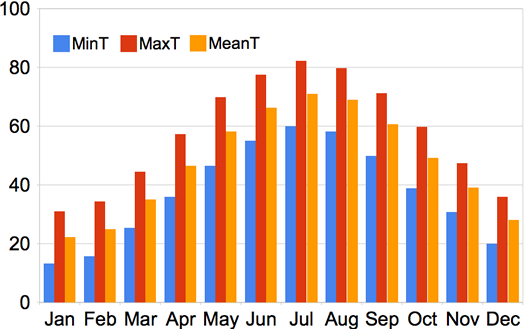 After seeing some chatter (chirping?) about today's temperature on Twitter (essentially: it shouldn't be this hot), we figured we'd look it up to see what the typical temps are for August (and every other month, for that matter).
The chart above shows the monthly normal temps as recorded by the National Weather Service in Albany for the years 1971-2000 (so, yep, it doesn't include the last decade of data). As you can see, July is typically the hottest month, though August is close behind. The numbers are also in a table after the jump.
The average high so far this month has been 81.5, which is a few degrees warmer than usual.
About today... The highest temp on record here for August 31 came in 1953, a day that topped out at 93. As of 3 pm today, the temp was 91. The average high for this date is 76.
data from National Weather Service
Hi there. Comments have been closed for this item. Still have something to say? Contact us.