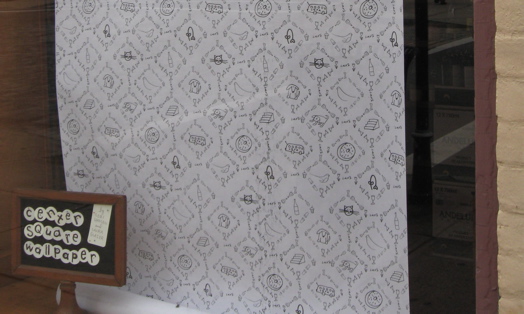 Laura Glazer and Lori Hansen think Albany's Center Square residents are proud of their neighborhood. So when they were working on a 1st Friday project for the big windows at Capitol Wine, in the heart of the Washington Park/Center Square neighborhood, they wanted to find a way to express that pride.
The photographer and graphic artist considered a number of ideas before settling on the one thing that neither of them felt they were good at: drawing.
The result: some fun rolls of Center Square "wallpaper" that are fun, quirky and as it turns out, just a tiny bit AOA inspired.
Photos and a little more from Laura Glazer after the jump.
The concept
Lori and I knew we needed to fill the windows and we wanted something that would be realllly big. Drawing is not something that either of us consider ourselves really good at, but we're both interested in doing things that are handmade and we're both exploring new things that have to do with doodling and simple things. This was a way to incorporate things that people don't know about us.
There is a really strong community in Center Square and our piece tried to visualize that community. I know that sounds so dorky, but it was cool. And on 1st Friday, everybody was hanging out looking at the wallpaper.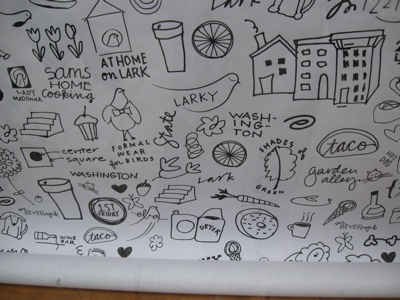 What's represented
The overarching theme was really whatever we were capable of drawing. (laughs)
We wanted to make sure we hit some of the most noticeable features of the street. There are wine bottles for the wine shop, some street names, and some of the more established business.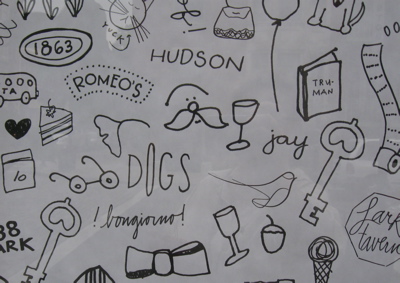 I also thought "If I were a visitor to Center Square, what might i remember about the trip?" and tried to add that. It's also kind of history of the neighborhood -- a very skewed history of the neighborhood -- with places like Shades of Green, Lulus and 288 -- places that have been gone for a while, but that people who have lived here a long time will remember.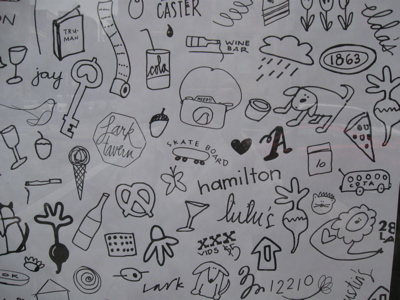 And from there we drew whatever we could.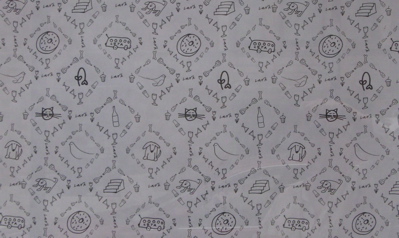 Lori drew a great set of stairs to signify the stoops, there are some tulips, dogs -- lots of dogs. There's pizza, ginkgo leaves, a donut for Dunkin' Donuts, a cup of coffee for The Daily Grind, a CDTA bus and a teabag for the tea shop.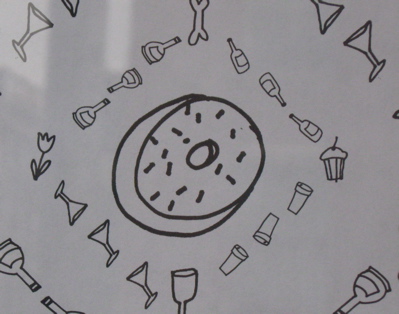 And one of my favorites is based on info we found on AOA -- a roll of toilet paper.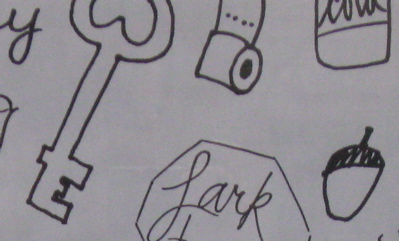 There's even a little AOA in the upper right hand corner. (Editors: We hadn't noticed this before talking to Laura. We went back and looked again, and sure enough, we found it.)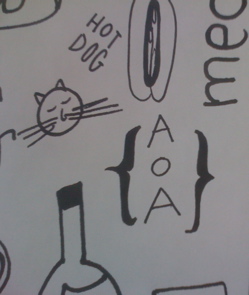 How it was made
I like photography because you get the results right away, but doing these drawings and then doing something with them was a whole process.
We met a couple of times over Lori's kitchen table and spent hours just drawing things. Then we cut out the drawings and arranged them on the table in different ways. We scanned all the drawings, put them into Illustrator and made the wallpaper paper on the computer. Kinko's printed it out on a blueprint printer that can print 36 inches wide to an unlimited amount of height -- 36 inches wide and 9 feet tall. So there was a really nice process to it. I know the word process sounds so "art-housey," but it was fun. It was almost like going to the movies, but instead of going to the movies we hung out in her house and drew.
We also posted pictures of it on Facebook so our friends in and out of the neighborhood could see what we were doing. That was one of the things I really enjoyed -- sharing what we were doing and getting encouragement.
What's next?
Lori and I were talking about doing one that is all Albany architecture for Historic Albany's Built fundraiser.
I make these pins now, about Lark Street and I sell them at Elissa Halloran. So now I've incorporated some of the drawings into the pins and people really like them. Center Square people really like it.
The Center Square wallpaper will be hanging in the window at Capital Wine through the end of September.
Capital Wine and Elissa Halloran have both advertised on AOA in the past.
Find It
Capital Wine and Spirits
348 State Street
Albany, NY 12210
Hi there. Comments have been closed for this item. Still have something to say? Contact us.