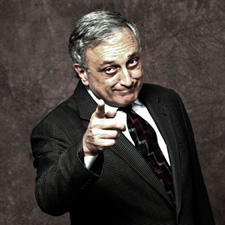 Rick Lazio and Carl Paladino are in "a virtual dead heat" for tomorrow's Republican primary for governor, according to a Siena poll of likely primary voters out this past weekend. Lazio leads Paladino 43-42 -- but that's within the 4 point margin of error.
The Siena poll reports that support for the two candidates is skewed geographically. Lazio, who's from Long Island, has a 55-30 lead among downstate Republicans. And Paladino, who's from Buffalo, leads 53-32 percent among upstate Republicans.
Paladino has picked up a lot of ground with Republican voters over the last month. A mid-August Siena poll had Lazio leading 43-30 among Republicans (they both were way behind in hypothetical matchups with Andrew Cuomo). It seems Paladino's angry-guy-taking-a-baseball-bat-to-the-establishment message is resonating with some people. Or maybe it's the campaign mailers that smell like garbage. [NYT] [NYT]
Paladino was in the Capital Region Sunday. He accepted separate endorsements from the Tea Party and Troy mayor Harry Tutunjian. [WTEN] [Troy Record]
Earlier on AOA:
+ Who is Carl Paladino?
+ Carl Paladino is one of those people who won't stop forwarding crap
image via Paladino campaign
Hi there. Comments have been closed for this item. Still have something to say? Contact us.