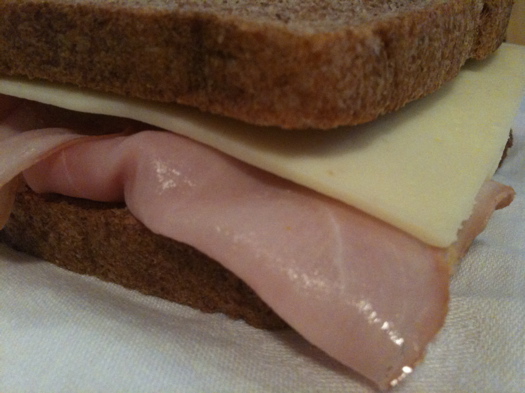 By Daniel B.
The Honest Weight Food Co-op's LocalHarvest Festival is this Sunday in Albany's Washington Park. AOA is a media sponsor of the event, so we thought it would be fun to ask a few local food bloggers to come up with some easy meals made with local ingredients.
Today, Fussy Liittle Blog's Daniel B. hams it up.
Some people might say that local food isn't for them. After all, there are plenty of adults who have no interest in eating their vegetables. But local food doesn't have to come from a health food store or a farmers market. It doesn't have to be super expensive either. Local food can just be food.
Take, for example, the ubiquitous ham and cheese sandwich. Millions of Americans eat one for lunch every day. So I wondered if I could put together a reasonably priced version with local ingredients that would fit in just as well at a construction site as it would at the local harvest festival.
For the sake of full disclosure, and to help me along with this, I used the more flexible notion of "local" that is approved by locavores who enjoy things like coffee: Products that are produced within a day's drive, even if some of their raw materials come from elsewhere.
Now let's break it down.
Bread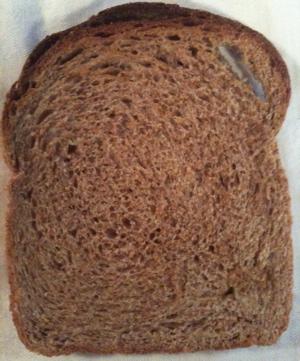 Local bread is easy. The Capital Region is full of small bakeries and The Honest Weight Food Co-op carries bread from several different local producers.
For this sandwich I went with the Heidelberg Baking Co (Herkimer, NY). I am a fan of their 100% whole-wheat sandwich loaf, which has only four ingredients: whole-wheat flour, water, salt and yeast. They are dense slices that toast or grill beautifully, and it's hearty enough to stand up to a seriously overloaded sandwich, if that's your thing. My loaf contained 15 slices of bread and two end pieces. While the bread retails for $3.99 it is available for a more reasonable $3.50 at Walmart.
There is an inherent disconnect with buying local and shopping at Walmart. But those mass market shoppers who are tentative about local foods can still dip their toe in the water without venturing too far past their comfort zone.
Cheese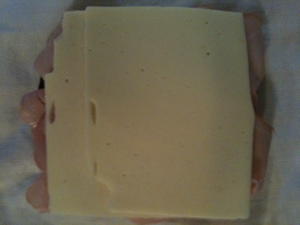 Local cheese is trickier. There are plenty of local farmstead cheese makers. But spreading a bit of Coach Farm goat cheese on your sandwich, or even a thick hand-cut slice of Clover Mead Farm cheddar violates the spirit of this project. The search was on for a decent local deli-sliced cheese.
Just because something is local, doesn't mean that it has to be small. I stumbled upon cheese from Yancey's Fancy (Corfu, NY) at the Niskayuna Co-op, but it is also sold at major retailers all over the country. Their Horseradish Cheddar is a white brick of zesty aged cheese that would complement a good strong mustard. I picked it up for $6.99 per pound, but likely it is cheaper at BJ's.
The Fresh Market in Latham also had a local white cheddar cheese, Adam's Reserve, in their deli. But while it has a more assertive cheddar flavor, it cost $9.99 per pound. Still, it remains a good option for a pricier sandwich.
Ham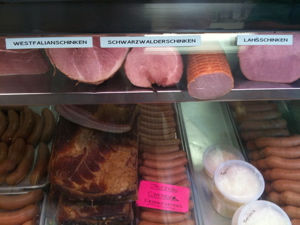 Local ham is the trickiest.
Ham is the critical ingredient. We are lucky to have Bornt Family Farms, just outside of Troy, producing "all natural" antibiotic hormone-free smoked products without nitrates or nitrites. Unfortunately a ham and cheese sandwich does not call for a ham steak, but rather thinly sliced deli ham.
Honestly, I'm not a big fan of deli meat. It is formed and pressed and bears little resemblance to the thing it is supposed to be. But I did indeed find a locally produced deli ham at the Niskayuna co-op. It's called Sahlen's Old Fashioned Smokehouse ham.
Sahlen's is a Buffalo based company that has been in business for over 140 years. The ham is fine. It's salty, smokey and tender. Three or four thin slices pile nicely onto a piece of bread, and it costs $7.99 per pound. While in some ways this is exactly what I was looking for, I had hoped to find something hammier.
Hammier is exactly what they have at Rolf's Pork Store in Albany. Rolf's makes its own German style hams, each with a more unpronounceable name -- Schwarzwälder Schinken and Westphalian Schinken. These are actual deboned joints of meat. Each one is cured and cold smoked at Rolf's store on Lexington Ave, and in each you can see the natural grains of muscle and delicate webs of fat. The Schwarzwälder Schinken is smaller and lightly smoked, and the Westphalian Schinken is larger with a more intense and deeper smoked flavor. At $14.99 a pound these aren't cheap, and they are certainly not humble. But if you wanted to elevate you basic ham and cheese sandwich, these fit the bill.
In the end I was glad to see that one could cobble together a tasty and reasonably priced ham and cheese sandwich using local products. For a mere $3.12 you can have four ounces of Sahlen's ham, and an ounce and a half of Yancy's cheese between two slices of Heidelberg bread. And that's if you don't buy your cheese at BJ's.
The sandwich is local-icious. Plus you get that warm fuzzy feeling of eating something made from regional producers, even without a vegetable in sight.
Yep, Honest Weight does advertise on AOA. And, as we mentioned, AOA is one of the media sponsors of the Local Harvest Festival (we're big fans of local food...mostly because because, you know, we like to eat). We did this series of posts because we thought it would be fun.

Hi there. Comments have been closed for this item. Still have something to say? Contact us.