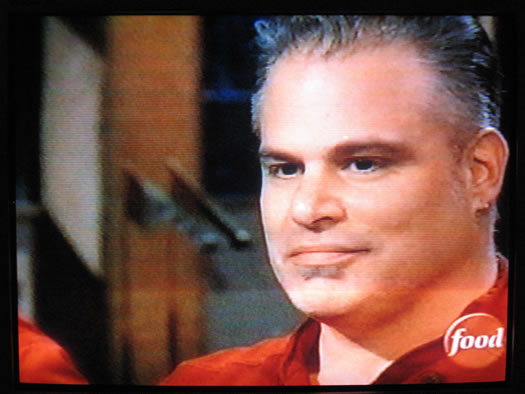 Local chef Ric Orlando (New World Home Cooking in Saugerties, New World Bistro Bar in Albany) was on the Food Network Tuesday night for the finals of the Chopped champions tournament.
He had already won twice on the show to get to this point -- but now he was up against three other two-time winners. And $50,000 was on the line.
Let's cook!
Contestants
Jason Zukas: exec chef at Tazzina in Queens
Mark Anthony Bynum: chef/owner MBynumCreations
Madison Cowan: owner of Avenue Inc, a NYC culinary production company
Ric Orlando: "I'm just a whirlwind of magic."
Judges
Marc Murphy
Alex Guarnaschelli
Geoffrey Zakarian
Appetizer basket
ingredients: geoduck, buddha's hand, black radishes, waffle cones
+ Geoduck seems to be unnerving the chefs a bit.
+ Ric says the grand finale was made for him -- says he's going to make an old-fashioned clam fry
+ Bynum goes for cross sections of buddha hand, sauteed -- judges are skeptical (worried it'll be bitter).
+ Cowan forgets to crust his radish with waffle cone -- decides to fold into mayo.
+ Ric says idea of folding waffle cone into mayo seems "heinous."
+ Ric looking for a mandolin for his radishes -- no one seems to have the mandolin. Ric wonders if competition is keeping the slicer hidden -- he does without it.
+ Ric voiceover: "I like the action. Woohoo!"
+ Chefs racing to finish, Cowan runs out of time -- doesn't plate everything.
+ Ric says his clams are "awesome."
Judging
Zukas: Geoduck fritter, black radish salad with buddha's hand zest. Zakarian praises fritter made with waffle cone, Guarnaschelli says radish and buddha fight a little bit.
Bynum: Inside out baked clams with buddah's hand. Murphy says the sauteed buddha's hand is surprisingly good.
Ric:: Fried clams and slaw. Guarnaschelli praises pickles in remoulade. Murphy says it works. Guarnaschelli doesn't like the salad -- nor does Zakarian, "It's a bit rough."
Cowan: Geoduck and buddha's hand escovitch, with cumin toasted black radish and waffle cone remoulade. Asks to add lime on plate that didn't get it -- Ric's OK, Bynum's OK, Zukas says no. Zakarian says geoduck is tough. Guarnaschelli praises the waffle cone remoulade as "really, really creative."
Judges' conference
Guarnaschelli says Zukas' dish was small. Murphy says the bacon in Bynum's dish overpowered other flavors. Guarnaschelli says Cowan's dish had too much going on. She says she was "seduced" by Ric's simple presentation. Zakarian says it was thoughtful and worked -- but Guarnaschelli says thoughtful isn't enough.
Result: Bynum chopped. Murphy says there was too much buddha's hand and the bacon overtook the clam.
Entree basket
ingredients: smelt, dried red currants, cheese curls, rack of wild boar
+ Cowan thankful to have made it out of first round.
+ Ric says he's serious about not being serious. Wants to show judges how much he wants it. Says he's going for a Great Lakes surf and turf -- with really cheesy mac 'n cheese.
+ Zukas says he's making wild boar with a smelt gremolata.
+ Ric's boar not getting color on his boar, throws it in oven.
+ Cowan smother his boar chops with his sauce.
+ Ric's boar is "dead raw" -- "Oh my god, this better not be my downfall." Decides to split up his rack and cook it on the stove top. Zakarian praises Ric's idea for the cheese curl mac-n-cheese.
+ Ric and Zukas squabble a little over a food processor.
+ Ric's boar comes around, says mac 'n cheese is "beautiful."
+ Judges worried about Zukas -- says he looks lost.
+ Zukas cramming for the finish -- his plates look sloppy.
+ Time's up! Ric does a little dance. Zukas looks crushed. Cowan says he's confident.
Judging
Ric: Great Lakes surf and turf, currant madeira sauce, cheese curl mac 'n cheese. Zakarian says it's a "deliberative entree," but interior of boar was tough (Ric says he was in "emergency fix it mode"). Murphy says mac 'n cheese was delicious.
Cowan: Maple and five spiced glazed boar with cheesy polenta and fried smelts as garnish. Murphy says currants with smelt worked. Guarnaschelli says she probably would have approached the basket the same way, which may not be a good thing. Says Cowan's plating is "wonky."
Zukas: Rack of wild boar over smoked cheesy potatoes with smelt gremolata. Guarnaschelli asks if he likes his dish. Zukas says he disappointed himself. Murphy says sauce is very good. Zakarian says he never would have thought of smelt gremolata -- Guarnaschelli says it "informs" the wild boar. Judges criticize presentation.
Judges' conference
Chefs look taxed in the stew room.
Zakarian says "this is great stuff." Judges praise Cowan's boar. Zakarian calls Ric's mac 'n cheese "brilliant" -- says boar was just OK. Guarnaschelli says her heart is heavy about the decision.
Ric voiceover: "I'm dying to get into the dessert round. It would suck the big one get chopped right now."
Result: Ric's chopped.
Zakarian says: "We're all flying close to the sun here, but you just didn't make it. We loved your mac 'n cheese, but it wasn't enough."
Ric: "I knew I didn't do as good as I should have ... I was trying too hard to win and not trying just to cook."
Dessert basket
ingredients: champagne, dragon fruit, tahini, cake flour
They get a special 50 minutes for this dessert round.
+ Cowan makes spiced chocolate cake, which he overbakes.
+ Zukas makes tahini ice cream, which he overturns in the machine.
Judging
Cowan: Dark choc and tahini cake with dragon fruit champagne compote. Guarnaschelli likes it. Zakarian notes the cake is over baked.
Zukas: tahini ice cream cake stuffed with dragon fruit. Guarnaschelli says the ice cream alone is like butter -- but the whole thing works.
Judges' conference
Zakarian says he likes Zukas' dessert. Murphy says Cowan used three of the four ingredients correctly. Murphy and Zakarian differ over whose dish had more flavor.
In review of the whole meal, Guarnaschelli comes back to the creativity of Cowan's waffle cone remoulade.
Result: Zukas chopped, Cowan wins $50k!
___
So, Ric finally got chopped. But to make it all the way to the second-to-last round against tough competition is really impressive.
Congrats on a great performance.
Update: Here's what Ric posted on Facebook after the episode:
F*ck me--That was the most exhilarating thing ever, except watching my kids get delivered, of course! Que sera--Back to work tomorrow! This experience made me a better person and a better chef, not doubt in my mind.Rock on, Baby!, Rock on! Thanks for all, and I mean ALL of the love! It is the greatest reward one can ask for.
New World Bistro Bar has advertised on AOA in the past.
screengrab: Food Network
Hi there. Comments have been closed for this item. Still have something to say? Contact us.