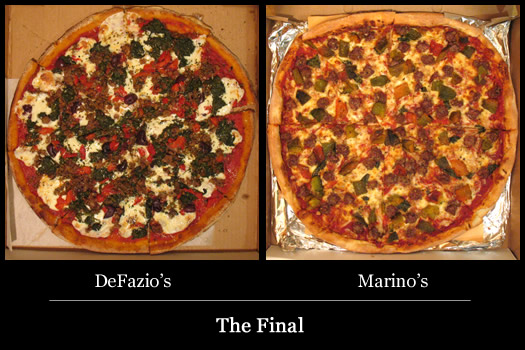 It's time for the match we've all been waiting for: the final of the 2010 Tournament of Pizza, sponsored by Sunmark Federal Credit Union. We have quite an impressive pair of competitors in this final matchup:
Troy champ DeFazio's vs. Schenectady champ Marino's
First, how we got here. DeFazio's edged out Nunzio's 62-59 and Marino's ended Pasquale's incredible run with a 69-66 victory.
Unlike in previous rounds, the two pizzerias get to pick the pies they enter in the final. Steve visited the two shops this week and their choices look great:
DeFazio's
A whole-wheat crust pizza with spinach, sausage, kalamata olives, roasted red pepper pesto, fresh mozzarella and Pecorino Romano cheese.
Marino's
A classic pizza with sausage, peppers and onions.
Let's eat some pizza.

A quick note about how all this works: The four judges -- Renee, Albany Jane, Joe and Daniel B -- taste the pizza blind in every round... except this final. Because the two pizzerias' choice were known ahead of time, the judges knew which which pizza belonged to each shop. As usual, they tasted the competitors side by side. The scoring is on a 100 point scale -- each judge represents a quarter of those possible points.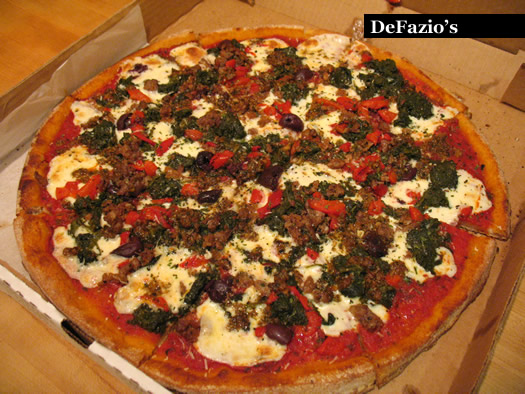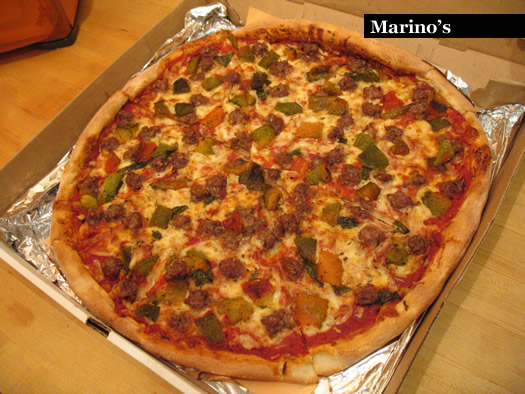 DeFazio's vs. Marino's
| | | |
| --- | --- | --- |
| | DeFazio's | Marino's |
| Crust | 14 | 15 |
| Sauce | 13 | 14 |
| Toppings | 13 | 17 |
| Overall taste | 28 | 33 |
| Totals | 68 | 79 |
Post game:
There was a lot of excitement leading up to this tasting because of the choices made by the two pizzerias. And the offerings did not disappoint.
Crust
DeFazio's choice to go with a whole-wheat crust was a gutsy move -- and the judges were generally positive about the change of pace. They said the Troy shop's crust was "nice and crisp on the bottom and outer edge" and commented that it supported all the toppings the well. Their one complaint: multiple judges said the crust was a bit too thick and heavy for their liking. Marino's classic crust scored well again -- the judges said it had a "nice crunchy edge" and a "nice sweetness." They did note it seemed to be a touch undercooked.
Sauce
The judges called DeFazio's sauce "delicious," with a rich, peppery flavor. But Marino's again edged a slight victory in the category with a sauce the judges said was "salty" and "bright." Commented one judge of the State Street shop's sauce: it "picked up a nice sweetness from the peppers and a [good] greasiness from the sausage."
Toppings
This category sealed the win for Marino's. The judges raved about DeFazio's olives and spinach. And they said the sausage was tender, though it got a little lost. They also said the pesto didn't register as much as they might have liked. The judges really grooved on Marino's sausage and peppers combo. Wrote one judge of the toppings: "love how crusty the sausage is and the juiciness of the sauteed peppers." Another commented that the sausage registered with a lot of flavor and really paired well with the peppers.
DeFazio's prepared a very good pizza for this match-up, with some standout flavors. They deserve a big round of applause.
But Marino's straightforward approach was just too much. Its 79 ties it for the second-highest score in the history of the TOP. Said one judge of the sausage and pepper combination: "This is a classic for a reason ... everything [on this pizza] works hard and everything works well."
Congratulations to Marino's, the champion of the 2010 Tournament of Pizza!
Thanks
Many thanks to Renée, Albany Jane, Joe and Daniel B for judging this year's competition. They take their job very seriously -- and they're a lot of fun to be around.
Big thanks also to the Times Union's Steve Barnes for joining in on the fun this year. Steve went a a remarkable 12-14 on his picks. We also very much appreciate Jennifer Gish's help with the video visit to the shops.
Thanks also the great venues that shared their space for tasting this year -- Spring Street Gallery in Saratoga, Anthology Design Studio in Schenectady and EMPAC at RPI.
And thank you to Sunmark Federal Credit UnionSunmark Federal Credit Union for its continued support of the Tournament of Pizza.
Earlier:
+ Results from the semi-finals
+ Steve's semi-finals predictions
+ Results from Round 2 in the Albany bracket
+ Results from Round 2 in the Troy bracket
+ Results from Round 2 in the Schenectady bracket
+ Results from Round 2 in the Saratoga bracket
+ Steve's picks for Round 2
+ Results from Round 1 in the Albany bracket
+ Results from Round 1 in the Troy bracket
+ Results from Round 1 in the Schenectady bracket
+ Results from Round 1 in the Saratoga bracket
The 2010 Tournament of Pizza is sponsored by Sunmark Federal Credit Union, which now offers banking from mobile devices. They even have an app for iPhones and Android phones.
Say Something!
We'd really like you to take part in the conversation here at All Over Albany. But we do have a few rules here. Don't worry, they're easy. The first: be kind. The second: treat everyone else with the same respect you'd like to see in return. Cool? Great, post away. Comments are moderated so it might take a little while for your comment to show up. Thanks for being patient.