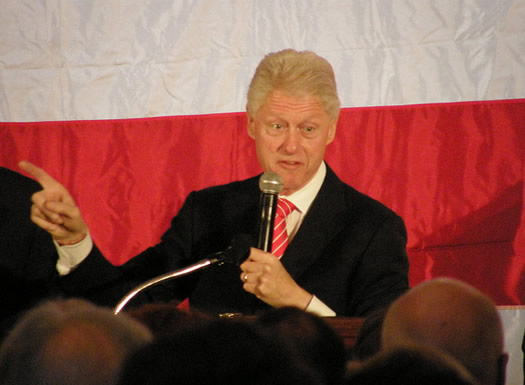 New York Now Matt sent along this photoset from Bill Clinton appearance this morning at the Hall of Springs in Saratoga.
Clinton was in town to campaign for Scott Murphy. Said Clinton of the race between Murphy and Republican Chris Gibson: "It's not about right and left, it's about tomorrow versus yesterday." (You can probably guess which candidate he thinks represents tomorrow.) [TU CapCon]
While Clinton and Murphy were in Saratoga, Gibson was on TALK 1300 also striking a non-idealogical tone: "Here's the thing though: Let's not worry about who gets the credit ... At the end of the day when we get the economy moving again, that's what matters." [Post-Star]
Sometimes it seems like we don't really have good choices in our elections. But both Murphy and Gibson seem like smart, engaged people. Sure, they have different viewpoints -- but neither is a bozo. That's saying something.
Here's the video of their debate two weeks ago.
As late as the end of September, Murphy had a big lead in the polls. But the latest Siena poll reported Gibson up by 9. FiveThirtyEight is projecting a 4.5 point win for Gibson.
(Thanks, Matt!)
photo: Matt Ryan