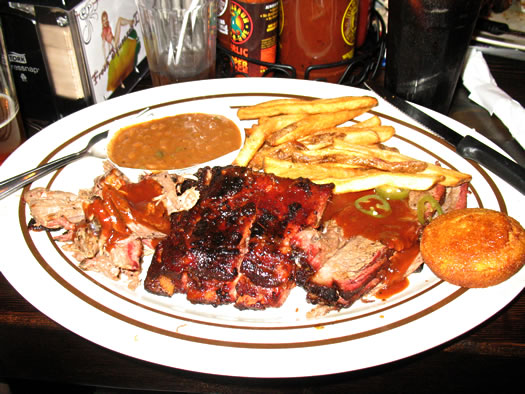 After much hype, the Dinosaur Bar-B-Que opened in Troy on Wednesday.
We've been looking forward to eating there for a while -- and based on the reaction to our peek inside last week, you're curious, too.
So we got together a few friends and headed over for dinner.
A quick note: This isn't really a review. It's more of "this is what we got, and here are a few thoughts" kind of thing. The place literally just opened, so there are bound to be a few rough spots.
This was our second stop at the Dinosaur this week. We had dropped by the preview party on Monday -- it was completely mobbed. We were able to get a few bites to eat, but it was nothing like a full meal. So it didn't really leave much of an impression.
The group for our visit late Wednesday afternoon: the Editors, Daniel B and his two adorable kids, Joe (of Tournament of Pizza judge fame) and his lovely wife Nora, and Mrs. Greg. Everyone ordered some sort of combo platter (of which there are many).
The setting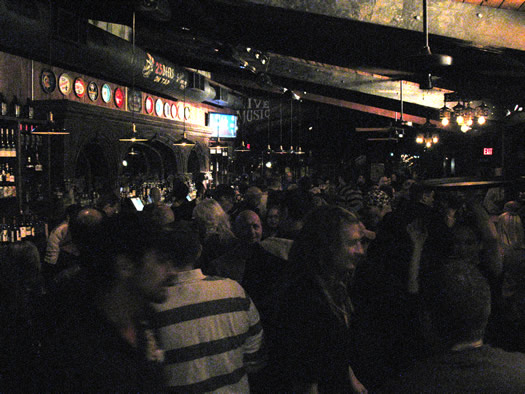 The Dino has scored itself a great location. The spot on the Hudson by the Green Island Bridge is picturesque (love the view of the bridge). And the building itself -- decorated in a roadhouse style -- looks great. There's a bar and stage at one end, with seating stretching along the other two thirds (we hear the place can seat about 300). The lighting is warm and a little dim. The air outside smells pleasantly of barbecue.
Wednesday night, the place was jammed. And it was loud.
The food
Fried green tomatoes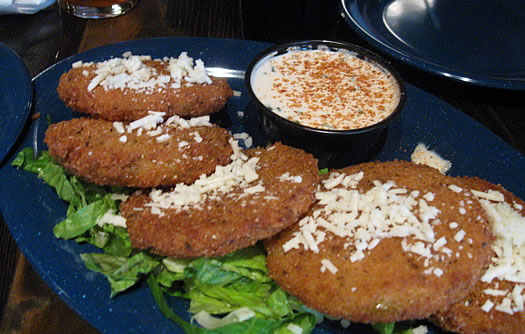 The tomatoes were sweeter than we figured they might be. The breading was crispy and a little salty -- but they weren't greasy or heavy. The tomatoes came with a cayenne ranch dressing that was more ranch-y than cayenne-y. But it was good.
The sausage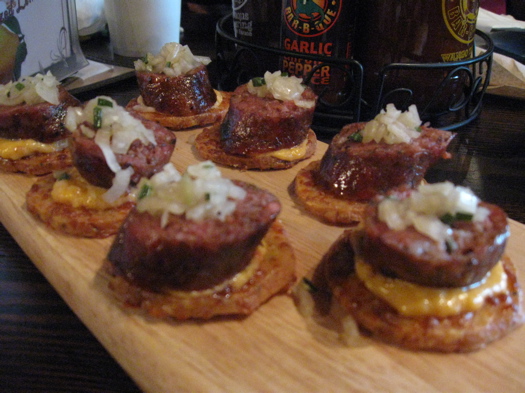 The Dinosaur developed a new sausage for this location. We got it on a combo platter and the appetizer above. The sausage has a good, strong smokiness. The casing has a bit of snap. The texture of the interior is like chorizo. And the overall flavor reminds us a bit of kielbasa. Daniel thought it was one of the highlights of the meal. It was good.
Brisket
The beef came sliced in strips, with a dollop of barbecue sauce and a few thinly sliced jalapenos. The "bark" was fantastic -- a hit of salty, meaty deliciousness. You could see the pink smoke ring. The meat itself was tender, with some nice fattiness. Joe thought his brisket was a touch on the chewy side. Daniel added that he thought it was a bit underdone. Joe wondered if all the meat was a bit rushed, because of the crush. All that said, it was very tasty.
Pulled pork
Pretty straightforward as pulled pork goes. The meat was in lightly pulled hunks. There was a mellow smokiness. It wasn't dry. Our portion had very few bark pieces. The Dino's slightly tangy sauce worked well on it. Thumbs up.
Ribs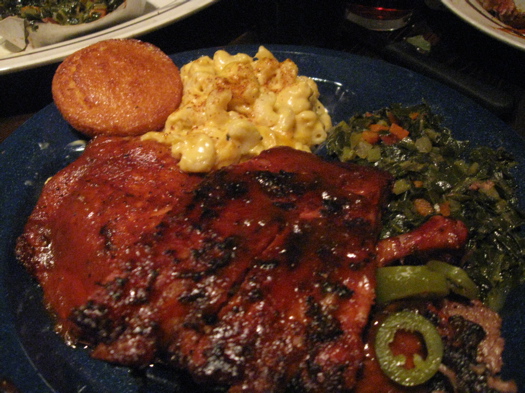 The pork ribs were solid. Like the brisket, they had a delicious crust. And they weren't over-slathered with sauce. There was an evident pink smoke ring. The meat was firm, but not hard to pull off the bone. Daniel thought they were a touch overdone -- but still said the ribs were the best of the meat. Joe said he liked them "quite a bit" (and emailed this morning to say they make great leftovers). On the whole, the ribs were very good.
Chicken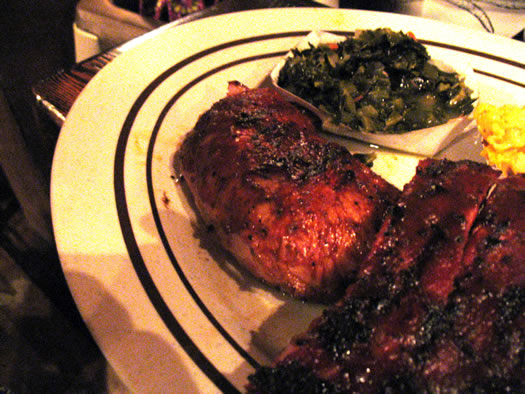 We're always surprised by how juicy the Dino's chicken is, and Wednesday was no exception. The meat carries the smoke well. The skin had some crispness, but was also a little soggy in places. Overall, thumbs up.
Sides
The baked beans came in a lot of sauce. Their flavor starts with sweetness and smokiness, and then finishes with some heat. The macaroni and cheese was creamy, but not over sauced -- it had a subtle jalapeno flavor. The handcut fries were fine. The greens were vinegar-y and not bitter. The cornbread was just OK -- a touch sweet, with a grainy texture.
Service
It was very good, with one hiccup. Joe had ordered a sausage platter, but ended up with a platter that included sausage (and other stuff) -- it wasn't a big deal and after a quick discussion with the server, he decided to keep it.
The staff was very friendly and helpful. New drinks arrived just as old ones were being finished. And when one of us dropped a knife, a server from another table appeared a moment later with a new silverware set.
Overall
We've eaten at the Syracuse Dinosaur many times. This new Troy location compares very well -- and in some ways is even better. The food was just as good. The space is much nicer (though it lacks the well-worn, gritty charm of the original). The staff is super friendly -- something the Syracuse location can't always claim (though sometimes that adds to the charm). And the apparent ability to turn out good food, with grace, at such high volume is impressive.
Everyone in our group Wednesday seemed very happy with their meals. The food is good -- not amazing -- but very solid. We'll be quite happy to eat there again.
The total bill for our table before tax was $175.95. That was for six adults all with their own meals, two kids who both got sides, two appetizers for the table, along with beers and a few sodas. There were plenty of leftovers.
Is it worth a long wait for a table? That might depend on how much you like barbecue. But even if you're not a big BBQ fan, it's worth stopping by at least once to try it. You'll probably have a good time.
Be sure to catch Daniel's thoughts on the Dino over at the Fussy Little Blog.
Update: Here's a photoset from opening day by id29 -- it includes a shot of the menu.
Hi there. Comments have been closed for this item. Still have something to say? Contact us.