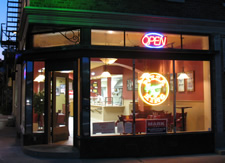 You wouldn't be able to make this up: Djovalin Camaj -- AKA John Camaj, AKA The Pizza King of Schenectady -- was arrested last week by the Montgomery County Sheriff's department for allegedly blocking a roadway to a Buddhist shrine in Auriesville and then later allegedly posing as a member of the sheriff's department. [Daily Gazette] [YNN]
But, wait, it (allegedly) gets weirder. From the (Gloversville) Leader-Herald:
Undersheriff Jeffery Smith said today that Serpa charged Camaj with trespassing after the man admitted erecting the roadblock that consisted of a portable orange road construction sign, several yards of orange string, a smashed jar of peppers, a jar of Yoga brand peaches, two campaign signs and a small statue of a pizza chef.
You know, we thought Camaj's decision to enter his chicken marsala pizza in the final of the 2008 Tournament of Pizza was a bit odd. Obviously, this resets the bar.
A Buddhist org called the World Peace and Health Organization has been buying up properties around Amsterdam as part of a large scale development plan.
Update April 22, 2011: Camaj has pleaded guilty to disorderly conduct. [Daily Gazette]
Hi there. Comments have been closed for this item. Still have something to say? Contact us.