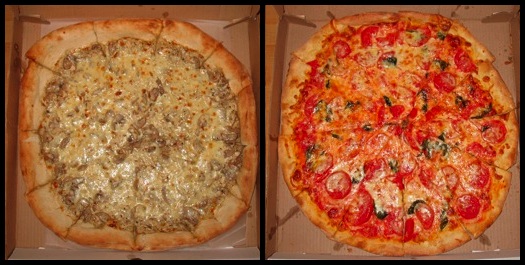 The final round of the Tournament of Pizza has arrived. After starting with 16 pizza places, we're down to just two: Schenectady's Pizza King and Albany's Pasquale's.
Which pizza will take the title?
Let's eat.
Here's how the two finalists made it here. Pizza King, out of the Schenectady Bracket, topped Fireside in Round 1, Home Style in Round 2, and Saratoga's D'Andrea's in the semi-finals. Pasquale's, out of the Albany Bracket, topped Paesan's in Round 1, Inferno in Round 2, and Troy's I Love NY in the semi-finals.
Here's the bracket for the whole tournament.
Each of the first three rounds had a theme: cheese, pepperoni, broccoli ricotta white. But in this final round, we decided to let the pizzerias pick what they thought was their best pie.
That led to a very interesting matchup. Pizza King decided to enter its chicken marsala pizza with mushrooms, which it says is one of its most popular options. The pie is a white pizza -- no tomato sauce. Pasquale's went a completely different direction, picking its classic margarita pizza: sauce, mozzarella, fresh tomatoes and fresh basil. The two pies made for quite the contrast.
Here's the result:
| | |
| --- | --- |
| Pizza King | 0 |
| Pasquale's | 3 |
Post-game
This was a match-up of two very worthy competitors and the final score doesn't illustrate how close it was.
The judges weren't sure what to think when presented with Pizza King's chicken marsala pie. But they enjoyed it. "Nice garlicky flavor," commented one judge, who added, "a heavier pizza, good for cold nights." All of the judges noted the pie's heft. "Like a cream sauce pasta on a pizza pie," wrote one judge. "Heavy - really heavy... like a can of cream of mushroom or a casserole on a pizza," noted another who called it "lovely." But the non-traditional flavor might have tripped up the King. Even though the judges liked the chicken marsala, it seemed to just miss the mark. "Not what I'm going for in a pizza," wrote one judge.
Pasquale's showed up to the finals ready to play. The New Scotland Ave pizzeria turned out what might have been its best effort of the whole tournament with its margarita. And the judges responded. Pasquale's cornmeal-dusted crust continued to garner raves. "Excellent crisp crunch on crust," commented one judge. They loved the "summery and bright" flavor of the pizza, with its "fresh, ripe tomatoes" and "nice basil-y flavor." The pizza's appearance even drew praise, with a judge calling it "really pretty looking." Summarized one judge of the Pasquale's pie: "F*** yeah -- so good."
So Pasquale's takes the title in the Tournament of Pizza. Our congratulations goes out to them, but also to Pizza King, which turned out a series of really tasty pies. The King didn't lose so much as Pasquale's won.
Also, AOA would like to thank the judges. We really appreciate their time, palates, appetites and good humor. It was a lot of fun.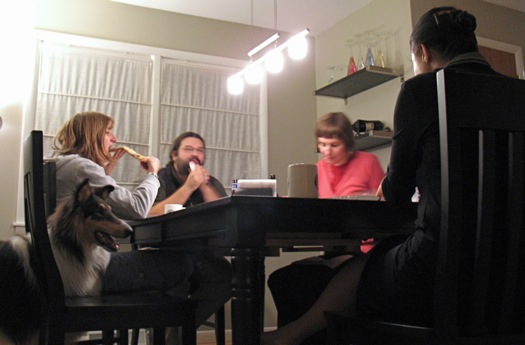 Hi there. Comments have been closed for this item. Still have something to say? Contact us.