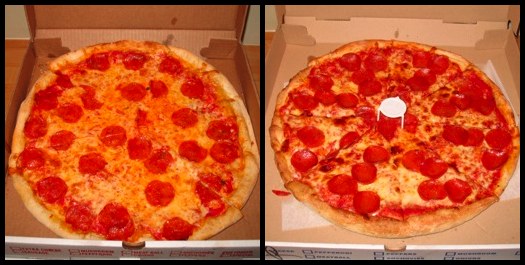 The pepperoni round makes its last stop in Albany for a matchup between Pasquale's and Inferno. Pasquale's topped one of the favorites in this competition, Paesan's, 2-1 in Round 1. Inferno breezed past an underwhelming effort by Sovrana 3-nil.
Who will be the final member of the semi-finals?
Let's eat!
Pasquale's
2
Inferno
1

Post game: This was close. The judges liked both pies, but as it's happened so often in this competition, it came down to execution. Pasquale's scored points with its "nice and thin" cornmeal crust. The judges also praised its sauce and called it "the good kind of greasy." Overall, a solid effort for Pasquale's. Inferno also made a strong showing -- it just got tripped up a bit. The judges actually preferred its pepperoni, but marked it down for being a little "too dry" and not having quite enough cheese. Wrote one judge, "if it was cooked more, would have won."
So Inferno delivers a good pie, but Pasquale's was able to do just a bit better. The New Scotland Ave pizzeria will now face Troy's I Love NY in the semis.
Next week in the TOP: the semi-finals pit broccoli and ricotta white pizzas against each other.
Earlier Round 2 results: Saratoga | Schenectady | Troy