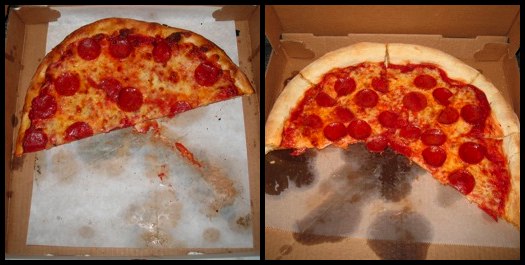 The pepperoni round stops in Schenectady today for a matchup between Home Style and Pizza King. A quick recap of Round 1 in this bracket: Home Style made it to the second round by beating its neighbor down the block, Scotti's, 2-1. Pizza King advanced with a convincing 3-nil win over Fireside.
That leaves us with a Downtown vs. Upper Union matchup. Whose pepperoni will come out on top?
Let's go the pizza!
Home Style
0
Pizza King
3

Post game: Another convincing win for Pizza Rex. Judges praised the King for its crust and "nice, easy pepperoni flavor." The pepperoni also scored points for being a little crispy around the edges. As for Home Style, the judges lauded its sauce, but not much else. Home Style's crust was described as "too crispy," its pepperoni as "just OK" and its aftertaste as "gross."
So it's another win for the downtown shop (D'Andrea's topped its suburban competitor yesterday in the Saratoga bracket). Pizza King will now take on D'Andrea's in the semi-finals.
Tomorrow in the TOP: the big, big showdown in Troy between Red Front and I Love NY, two pizzas that made strong showings in Round 1.
Earlier Round 2 results: Saratoga