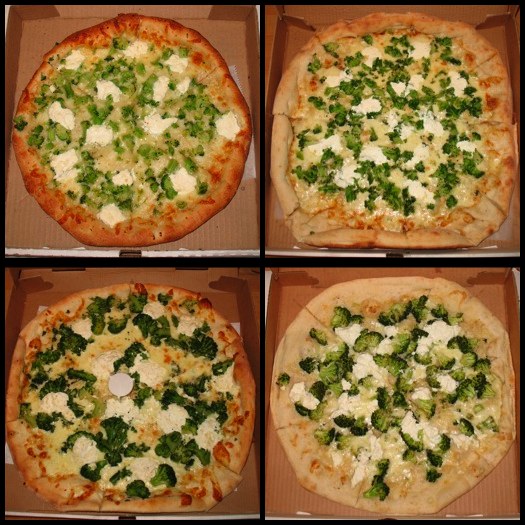 It's crunch time as the four remaining pizzerias in the Tournament of Pizza head into the semi-finals. Anyone left in the field could take the title -- it's all a matter of execution. And this round's challenge is a bit different than the first two: we ordered broccoli ricotta white pizzas. Yep, the red sauce stayed on the sidelines for this one.
Could the pizzas hold up to going sans tomato? Would anyone making a costly mistake? Who will face off for the title?
There's only one way to find out. Pizzas, please.
A quick recap of the last round: D'Andrea's emerged from the Saratoga Bracket with a win over Caputo's. Pizza King won the Schenectady Bracket after dominating Home Style. I Love NY eeked out a win over Red Front in Troy. And in the Albany Bracket, Pasquale's topped Inferno.
D'Andrea's
0
Pizza King
3

Post game: The King reigns again. This matchup wasn't close.

While the judges liked the ricotta on D'Andrea's pizza, they found the rest of the pie lacking. They criticized the broccoli ("broccoli a little undercooked", tasted like "frozen broccoli") and the overall feel of the pie ("too dry" , "no taste").

Pizza King scored on almost every element of its pizza. The judges praised its crust ("nice crisp bite"), veggies ("bright green broccoli" that "tastes fresh") and cheese ("nice texture"). PK also scored with its use of what appeared to be roasted garlic, though one judge commented it might have gone a little overboard.
I Love NY
0
Pasquale's
3

Post game: Another 3-nil match, and this one was a surprise as I Love was regarded as one of the favorites to take the title.

But ILNY didn't bring it in this round. The judges marked its pie down for being "like a puffy cracker with cheese and toppings." The broccoli, in particular, didn't go over well. "Doesn't even taste like broccoli," wrote one judge. Said another: ""the broccoli looks better than it tastes."

The judges weren't so sure about Pasquale's on first look, either. The pie actually looked undercooked -- one judge even described it as "ugly." But they liked what they tasted. Pasquale's cornmeal-dusted crust continued to draw praise. Its broccoli ("seems like real broccoli") and cheese ("nice") also scored points. Wrote one judge afterward, "[I] enjoyed the different look and feel."
So now we're down to just two. In a showdown between Schenectady and Albany, Pizza King will take on Pasquale's for the title on Thursday.
And what's the challenge for the final round? Pizzeria's choice. Yep, the two shops will offer up what they think is their best pie.
Hi there. Comments have been closed for this item. Still have something to say? Contact us.