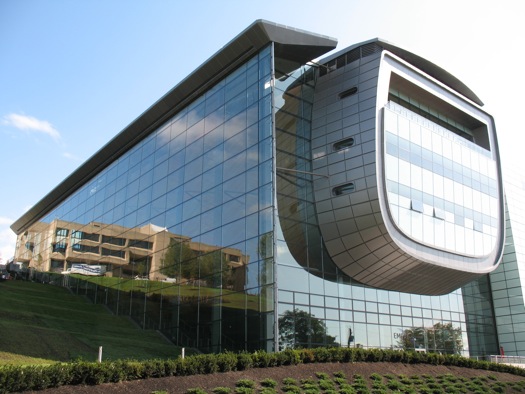 Update December 1, 2010 RPI has confirmed a location scout did tour EMPAC for possibly using it in Iron Man 3.
____
Totally unconfirmed, should-be-taken-with-a-shaker-of-salt rumor of the day: EMPAC is being scouted as a location for the next Iron Man movie.
From a post last week at ComicBookMovie.com:
And I was also tipped months ago that from an attendee, a Marvel Studios rep took a tour of the Experimental Media Performing Arts Center (EMPAC), location scouting for a place in the multi-venue center, located in Troy, New York to act as the secret lab of the unspecified villain in Iron Man 3. The attendee included that no decision was final, but was under consideration.
For what it's worth, this same rumor popped up in an IMDB comment thread in September. And EMPAC does look the part.
We contacted EMPAC's media rep, Jason Steven Murphy, to see what was up. His response via email:
EMPAC at Rensselaer is always involved in numerous ongoing discussions with various parties, related to work and/or performances that could take place here. As a matter of policy, we generally do not make any announcements until and if any final arrangements have been made and agreements have been signed.
OK, kind of what we expected. But it wasn't a denial, either.
Iron Man 3 is slated to be released in May 2013 (Iron Man -- and Robert Downey Jr -- will make an appearance in the Joss Whedon-directed Avengers movie in 2012). So, you figure shooting (wherever it happens) will probably start sometime late next year or in early 2012.
Hi there. Comments have been closed for this item. Still have something to say? Contact us.