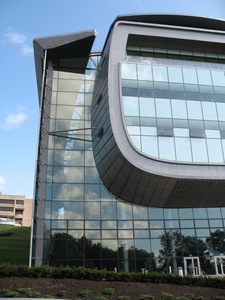 After mentioning the rumors about EMPAC possibly being used as location for the next Iron Man movie on Monday, we heard from multiple sources that members of the RPI administration talked about the possibility at this week's Student Senate meeting. So we followed up for an official confirmation.
And here it is, via EMPAC media rep Jason Steven Murphy:
We can further confirm, as you have seen around the internet, that Marvel was given a tour some time back in regards to possibly using EMPAC as a location for the "Iron Man 3" shoot.
So, there you go. Giving a location scout a tour is a long way from Robert Downey Jr actually showing up in EMPAC's lobby. But it's a fun thought, right?
ComicBookMovie.com reported that EMPAC was being scouted as "the secret lab of the unspecified villain in Iron Man 3." If this unspecified villain's MO includes using mixed-media in non-standard narrative performances, you gotta figure EMPAC's at the top of the list.
Iron Man 3 is slated to be released in May 2013 (the character will make an appearance in the Avengers movie slated for 2012). So, you figure shooting (wherever it happens) will probably start sometime late next year or in early 2012.
Earlier on AOA: EMPAC for Iron Man 3?
Hi there. Comments have been closed for this item. Still have something to say? Contact us.