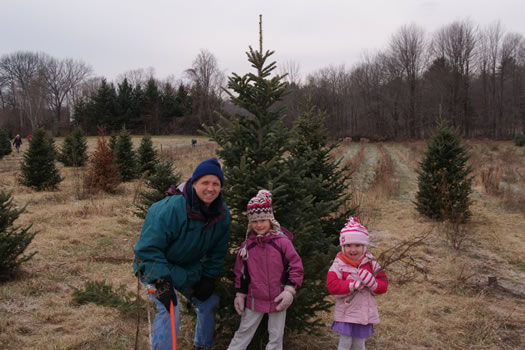 By Katie Beltramo
Here's updated info for 2012.
You've probably bought apples at a supermarket before, but isn't picking apples at a local orchard a much more satisfying experience? Sure, it takes more time, but you're embracing the season, getting a vastly superior product and supporting local farmers.
It's the same with cutting down your own fresh tree. It kind of turns an errand into an adventure. And we're lucky enough to live a short distance from several different Christmas tree farms.
Some people are intimidated by the prospect of actually cutting down a tree, but it's not difficult. Well, okay: it's not entirely easy, either. One farmer chuckled that some people don't anticipate that cutting down a tree will, in fact, involve physical labor. The effort involved will vary based on your motivation and your destination.
Getting to the trees from your car can be a quick walk, a long hike, or a ride on a trolley. Every tree farm listed below can provide a saw if you need one, and they will coach you on how to use it. Once you've found and cut down your tree, you need to bring it back to your car -- well, really, to the roof of your car. At some places, this is strictly the visitors' responsibility, but other farms will haul it, shake it to get the loose needles (and all that pesky nature) off, wrap it, and strap it to your car for you.
First, a few helpful cut your own tree tips: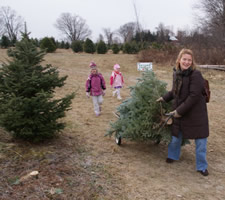 Remember that it is a farm
Don't wear pretty shoes, because it's likely to be snowy or muddy, and you might trek around a bit to find the perfect tree. If your heart is set on a specific variety of tree, it's a good idea to call ahead to confirm that there are still some that haven't been cut down yet (the varieties listed below were confirmed on December 2nd).
Remember that it is winter
Layer for warmth and comfort, because it's likely to feel much chillier than it feels at home. Keep in mind, as well, that dusk falls early, and it gets dark quickly out there in a field. If you're going for the first time, arrive at 3 pm at the very latest. You don't want to feel rushed as you are looking for Your Perfect Tree.
Come prepared
Bringing a large plastic sled with a tow rope for pulling along trees and/or children can be helpful. Also bring some twine for getting the tree onto the car. Even if you're going to a farm where they'll help you, it's a good idea to have your own rope or bungee cord in case the workers get busy. If the farm doesn't sell refreshments, bring some coffee or cocoa. Oh, and bring a camera! Because you're making memories!

Here's a round-up of some local tree farms, big and small, with varying levels of assistance. Generally these prices include taxes.
Bob's Trees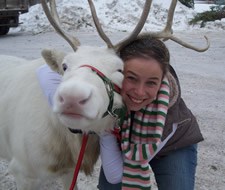 1227 West Galway Road, West Galway
518-882-9455
Hours: 8 am-4:30 pm every day
Bob's has Santa Claus, live reindeer, children's activities, and food for sale on the weekends. They have weekend horse-drawn carriages for fun, but they're not used as transportation to the trees you'll be cutting down.
Trees:
Fraser Fir, Douglas Fir, Balsam Fir, White Spruce, Korean Fir, Canaan Fir. They have some trees that are 12-14 feet. Living trees are also available.
Help:
Maps and saws are provided, folks walk in and carry out their own trees. On the weekends, volunteers help prepare and tie trees on cars as a fundraising activity.
Cost:
$45 for all trees
Cloud Nine Tree Farm
567 Knox Cave Road, Knox
872-1331 (residence phone as well)
This is a small family business.
Trees:
Fraser Fir, Douglas Fir, a few Blue Spruce. Many trees are a bit overgrown or younger--few mid-size. Some trees are recently planted enough that they could be dug up for replanting.
Hours:
By appointment
Help:
Saws are provided, and they'll help if you need it.
Cost:
$30 for all trees
Ellms' Christmas Trees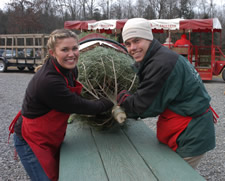 468 Charlton Road, Ballston Spa
(518) 885-7377
They'll have Santa and live reindeer the first two weekends of December. Complimentary cup of cocoa and other drinks and snacks available for purchase.
Trees:
Frasier Fir, Balsam Fir, Blue Spruce, White Spruce, Douglas Fir, Concolor Fir. They have trees up to 13 feet.
Hours:
10 am 'til dark during the week, open 8:30 am on weekends
Help:
Ride a trolley out & back to fields, maps and saws are provided, as well as handy tree-carrying carts. Tree shaking, wrapping, and assistance getting onto the car are included.
Cost:
$39 and up
Majestic Tree Farm
185 Pictuay Road, Selkirk
767-2443
A small, friendly, family business
Trees:
Balsam Fir, Blue Spruce, Fraser Fir, White Pine, White Spruce, Norway Spruce
Hours:
9 am to 5 pm Wednesdays to Sunday
Help:
Saws are provided, and they'll help carry your tree out of the fields, shake & wrap it and tie it to your car.
Cost:
Under 4 feet tall: $20, over 4 feet tall: $38
McDonough's Farm
28 Gilligan Road, East Greenbush
(518) 477-4841
Another small, family business.
Trees:
Douglas Fir, Fraser Fir, Canaan Fir
Hours:
9 am until dark
Help:
Walk out into the field and cut your own or "pick and pay". Saws are provided, and your tree (and you) can ride the tractor back to your car, where they'll help you get it onto the car, too.
Cost:
$50 for all trees

Van Etten Tree Farm
2000 Berne-Altamont Road (Rte. 156), Altamont
872-1895
Van Etten has pony rides, petting animals, a bonfire, and a snack shack to purchase hot chocolate and homemade cookies on the weekends.
Trees:
Balsam Fir, Colorado Blue Spruce, Fraser Fir, Norway Spruce, Scotch Pine, White Pine, White Spruce. Living Christmas trees are available.
Hours:
9 am to 4 pm each day
Help:
Visitors walk in, cut, and carry the trees out themselves. They have a few saws to loan, but bring one if you have it. On the weekends there are hayrides to the fields.
Cost: $30
Been to any of these farms? We'd love to hear about the experience. Any other suggestions? Let us know.
Katie writes about fun family stuff to do in the Capital Region at CapitalDistrictFun.com
farm photos via the respective farms
Hi there. Comments have been closed for this item. Still have something to say? Contact us.