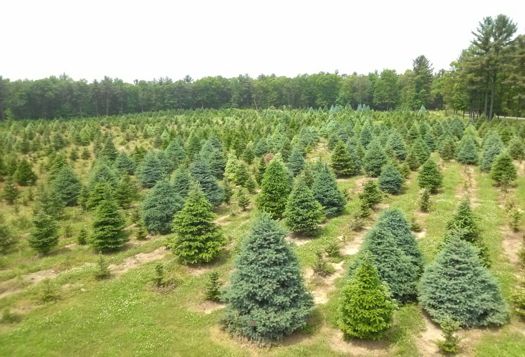 Thanksgiving? Check. Holiday shopping started? Check. Time for the tree.
Like picking your own apples, cutting your own tree can make the experience of bringing home a holiday tree more fun. After the jump we've updated our list of cut-your-own Christmas tree places, with addresses, maps, prices and details on the types and sizes of trees you can expect to find.
If we're missing your favorite cut-your -own spot, please share.
If you've never cut your own Christmas tree before, you might want to check out some pointers shared by Katie Beltramo for how to dress, what to bring, and what to expect.
Here's this year's updated list of cut-your-own spots:
Bailey's Family Tree Farm
530 Center Cambridge Road, Cambridge (map)
Small family farm with a gift shop and handmade wreaths.
Hours:
Tuesday - Sunday 10 am-5 pm.
Types of trees:
Mainly Fraser fir, caanan, concolor and blue spruce
Size
UP to 8 feet.
Prices
$42.06 for all sizes.
Help
Two vehicles. You can carry your own out or they'll bring it out for you. They bail and shake at no extra charge. Saws and maps available.
Bob's Trees
1227 West Galway Road, West Galway (map)| (518) 882-9455
Bob's has Santa Claus, live reindeer, children's activities and hay rides for fun, but they're not used as transportation to the trees you'll be cutting down. Santa is there from 10a.m. to 4p.m.

Hours:
8 am-5 pm every day through December 1. Starting 12/1 they're open 8 am-8 pm, but you can only cut your own until dusk.
Trees:
Fraser Fir, Douglas Fir, Balsam Fir, White Spruce, Korean Fir, Canaan Fir. They have some trees that are 12-14 feet. Living trees are also available.
Help:
Maps and saws are provided, people walk in and carry out their own trees. On the weekends, volunteers help prepare and tie trees on cars as a fundraising activity.
Cost:
$45 for all trees
Ellms' Christmas Trees
468 Charlton Road, Ballston Spa (map) | (518) 885-7377
Santa will parachute in this Saturday, December 1 at 2 pm and will be there from 11 am-3 pm on 12/2, 12/8, and 12/9. Goats to feed. Complimentary cup of cocoa. Other drinks and snacks available for purchase.
Hours:
10:30 am-4:45 pm during the week, 9 am-4:45 pm weekends
Trees:
Fraser Fir, Balsam Fir, Blue Spruce, Concolor Fir. They have trees up to 11 feet.
Help:
Ride a trolley out and back to fields, maps and saws are provided, as well as handy tree-carrying carts. Tree shaking, wrapping, and assistance getting onto the car are included.
Cost:
$44 and up
Majestic Tree Farm
185 Pictuay Road, Selkirk (map) | (518) 767-2443
A small, friendly, family business. They offer complimentary cider and cookies on the weekends.
Hours:
9 am-5 pm Wednesdays to Sunday
Trees:
Balsam fir, blue spruce, Fraser fir, white pine, white spruce, Norway spruce
Help:
Saws are provided, and they'll help carry your tree out of the fields, shake it, wrap it, and tie it to your car.
Cost:
Under 3 feet tall: $20. Over 3 feet tall: $38
McDonough's Farm
28 Gilligan Road, East Greenbush (map) | (518) 477-4841
Another small, family business.
Hours:
Every day 9 am to dark. For pre-cut they're open until 6 pm.
Trees:
Douglas Fir, Fraser Fir, Canaan Fir
Help:
Walk out into the field and cut your own or "pick and pay." Saws are provided, and your tree (and you) can ride the tractor back to your car, where they'll help you get it onto the car.
Cost:
$50 up to 8 feet (tax included). Above 8 feet prices go up.
Veeders Trees
1235 High Hill Road, Earlton (map) | (518) 731-8585
Santa will be there 11 am to 2 pm every weekend to Christmas. Hot chocolate and wreaths for sale.
Hours:
Weekdays 1 pm-5 pm. Saturdays and Sunday 10 am-5 pm.
Help:
Saws, bailer, help you carry the tree out to the car.
Type of trees:
Frasier fir, balsam fir, blue spruce, white spruce, concolor. From babies to 20 feet.
Cost:
All trees are $43.
photo: Veeder's Tree Farm via their Facebook page
Hi there. Comments have been closed for this item. Still have something to say? Contact us.