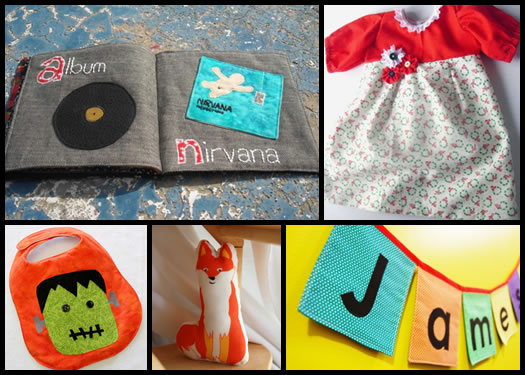 By Crystal Powell
All this week Crystal is sharing local finds on Etsy.
Because I refuse to set foot into the madness that is a children's store during holiday shopping season, I've spent a lot of time on Etsy trying to find a great Christmas gift for my one-year-old nephew.
Between all the people who love this kid, he probably already owns at least one of everything in those stores, so I decided my best bet for getting him something he doesn't have would be to browse the kids shops on Etsy. In the process I came across some great local finds.
exlibris handmade
One of the first things I ever saw from Exlibris Handmade was a cloth book she made that was kind of an "ABCs of music." It had appliqued and embroidered pages featuring The Beatles for B and the cover of Nirvana's Nevermind for N. I thought it was a pretty ingenious gift to give to a hipster parent. She still makes cloth books on a custom order basis, but also takes custom orders for name and word bunting, which I think would make a cute addition to any kids' room.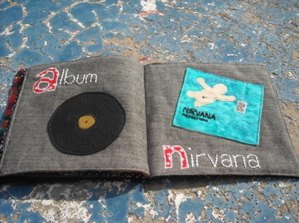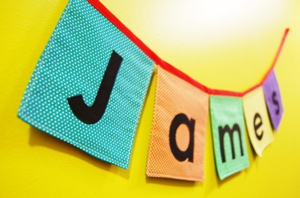 feathered nest studio
When I was little, my mom bought fabric that was printed with a "make your own Care Bear" pattern and I loved the Care Bears she made me more than the ones you could buy in the store. Feathered Nest Studio brought back those memories for me when I came across their Stuffed Animal kits. You have to be a little crafty to put together this gift for your favorite kid, but it's not as hard as it sounds when the kit includes literally everything you need to make it. I also think these would make cute throw pillows for anyone who is a kid at heart.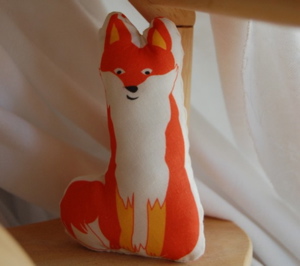 Factory Free
I'm picturing what my 1 year old nephew would look like in the Factory Free Frankenstein bib, and it's almost too cute to resist.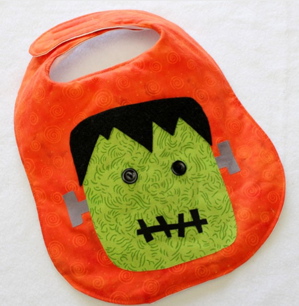 But my favorite item is the Blue Care Bear Diaper Bag, which could be cute for my little nephew or any sister he may possibly have in the future.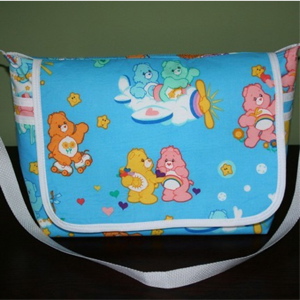 M.O.S.S.
Growing up, holidays always meant dressing up. Usually for my sister and I it was in matching dresses handmade by mom. The holiday dresses in the M.O.S.S. shop really bring me back. The Deck The Halls Dress looks exactly like something my sister and I wore on Christmas 1987, yet has a timeless vintage design to it that makes it as cute for little girls of today as it was back then.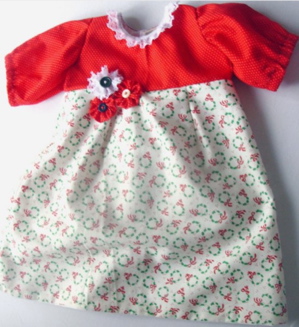 Earlier on AOA:
+ Capital Region Etsy: jewelry
+ Capital Region Etsy: clothing
Hi there. Comments have been closed for this item. Still have something to say? Contact us.