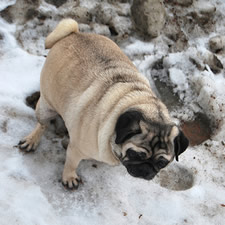 Now that the winter weather has gotten cranked up, we figured it would be a good time to address an issue that seems plop down around the end of each year: dog poop.
Uh, why are you bringing up dog poop? Good question! As the cold weather sets in each winter and the snow accumulates, we notice that piles of dog poop start gathering along streets in the Capital Region. (It's kind of hard to miss, given that it's a high-contrast item in the snow.) And these forlorn turds then freeze into unfortunate poopsicles -- which are a real treat come spring.
Well, we've thought a lot about this issue. And we finally came to the conclusion that winter somehow impairs the ability of some people to make good decisions about whether they should pick up their dog's poop.
So, we're here to help. We've constructed a flow chart to assist citizens of the Capital Region in their decision-making process on the all important question: "It's winter. My dog has pooped. What now?"
The flow chart is in wide screen above. Scroll up.
Here's a pdf version for easy printing.
photo: Flickr user tuppus
Hi there. Comments have been closed for this item. Still have something to say? Contact us.