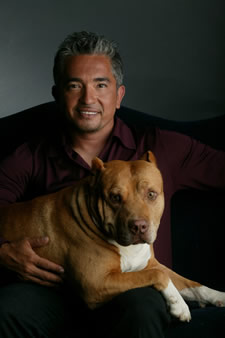 Cesar Millan -- "the Dog Whisperer" -- is coming to the Palace March 27 (that's a Sunday). Tickets go on sale January 14 (a week from this Friday). They start at $35.75.
Millan has become a huge star from his TV show, books and various whatnot. But we're not exactly sure what "An Evening with Cesar Millan" entails. The press release we got says "Cesar will touch upon his life experiences, and teach the attendees at his live show how to apply his techniques in the training and rehabilitation of their own dogs." Millan talks a lot about "rehabilitating" dogs and "training" humans. So maybe he'll train some audience members on stage. Tsch!
(We've often thought Millan's success comes from the fact that he's just a person who's naturally -- and freakishly -- good with dogs (not necessarily the same thing as knowing about dog psychology or whatever he calls it).)
Chances are the audience for this event will have to wait outside the theater until Cesar arrives, so he can enter the door first. It's a dominance thing.
Earlier on AOA: It's winter. Your dog has pooped. What now?
photo: Alan Weissman
Hi there. Comments have been closed for this item. Still have something to say? Contact us.