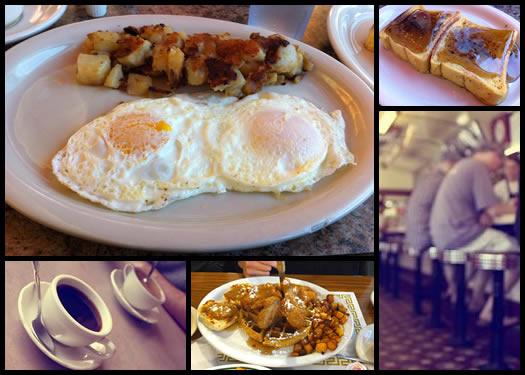 By Crystal Powell
We've enjoyed reading about Crystal's breakfast tour of local diners over the last year on her blog "Windshield Diaries," so we though it'd be fun to ask her for her top 5 Capital Region diner breakfast spots.
At the beginning of 2010, my S/O Mike and I made it our mission to try as many local diner breakfasts as we could.
For us, what makes a diner stand out is a combination of the following: authentic vintage-ness, good coffee, quality ingredients, and good service.
In the last year we've been to just about every diner we could find in the Capital District. So after our year-long exploration of the local diner breakfast scene, here are our top contenders for the best diner breakfast experience you can get in the Capital District.
Miss Albany
893 Broadway, Albany (map)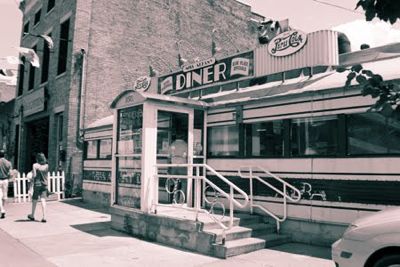 Miss Albany has everything that we love in a diner: it's an authentic vintage diner that's been around since 1941, menu is above average, and it has sassy diner charm. We love ordering our gourmet brunch and sitting in the vintage booth, reading the little signs about keeping your butt on the bench and your feet on the floor.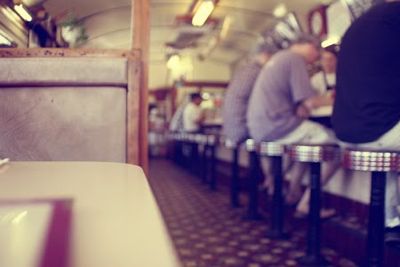 We've never been disappointed the countless times we've been to Miss Albany. The atmosphere is always cheerful, but not boisterous, and the waitresses are always top notch. Each booth has a single red silk rose in a vase, and the sugar, cream, and napkin dispensers all appear to be vintage. Miss Albany also knows how to brew a great pot of coffee -- never burnt, never bitter, never too strong.
We've sampled some of their menu staples like the Rocky Mountain High, the MAD Irish Toast and the Power Breakfast.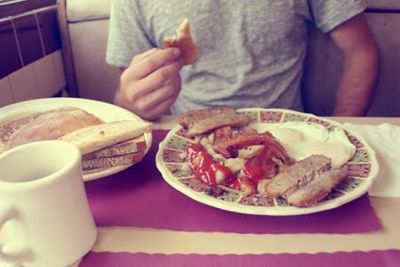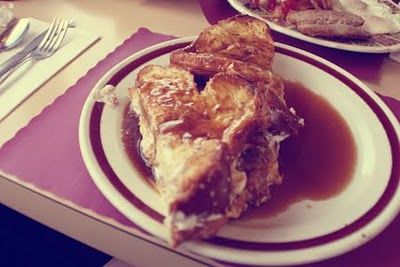 Now that we've conquered the menu staples, we're looking forward to trying out their rotating breakfast specials like the Pennsylvania Scrapple or the New Orleans Omelet.
Mike has been known to tell people that the Miss Albany is so good, there is no other place to get breakfast, and I can't say I disagree. The one small complaint we have is their cash only policy. It can be kind of an inconvenience but at the same time it adds to their vintage charm.
Jack's
547 Central Ave Albany (map)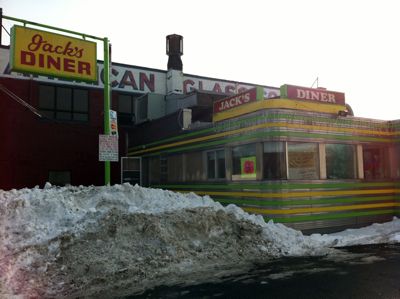 We've driven past Jack's countless times and for some reason I was always convinced that it was a closed, abandoned diner. And it was closed for a few months last year. But it's back open with new owners and they recently renovated the exterior. We couldn't wait to get some breakfast.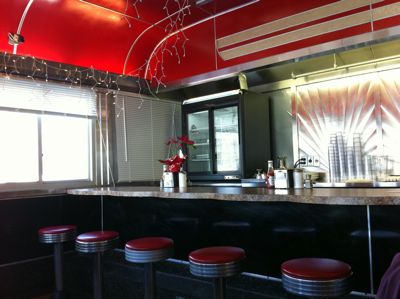 We love the fact that Jack's is one of two Albany diners on the National Register of Historic Places. It's been around since 1948. The interior is classic: red and white booths, and a long counter with stools. We really like authentic vintage diners more than newer constructed "retro looking" diners.
We were happily surprised by Jack's menu -- it took us a good 10 minutes of drooling over our many options before we finally decided what to order. In addition to the vintage aesthetic and varied menu, we really liked the service. Our coffees and waters were refilled countless times without having to ask. On one recent trip, Mike got a little adventurous and ordered his first Eggs Benedict. He asked some questions about the Hollandaise sauce and the waitress thoughtfully offered to put it on the side for him in case he didn't like it. Of course, he loved it because the food at Jack's is top notch.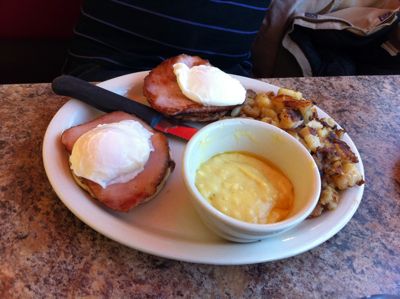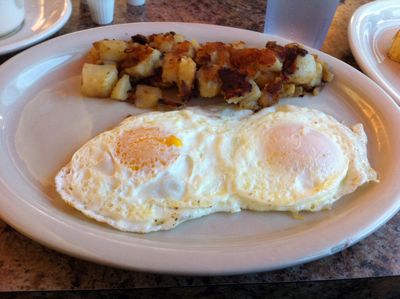 I love their french toast, because unlike some diners in the area who use flimsy slices of white bread, Jack's is made with thick slices of seasoned challah bread, then dusted with cinnamon.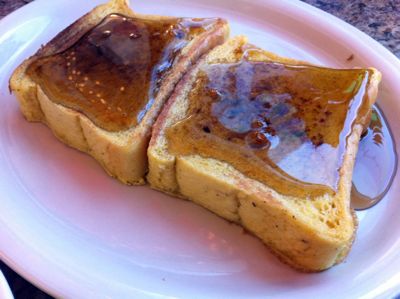 The only problem we have is the maple syrup substitute they serve. Offering some real maple syrup, even at an up charge, would be stellar.
The next time we hit up Jack's I'm looking forward to trying their Huevos Rancheros, and Mike is still thinking about their bacon.

Compton's
457 Broadway, Saratoga Springs (map)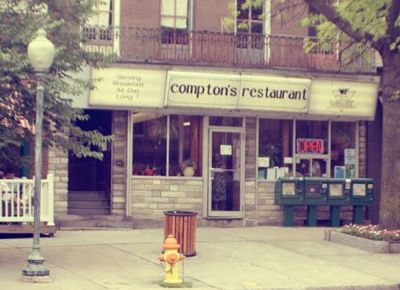 We happened upon Compton's by chance on our way through Saratoga one day. I was searching Yelp for a good, cheap diner and Compton's topped the list so we gave it a go. There's nothing about Compton's that stands out as extraordinary -- until you look at the menu. For a joint located on the fancy main drag in Saratoga, you would expect to pay a pretty penny for your eggs and bacon. But Compton's is surprisingly cheap! In fact, the breakfast we had at Compton's is probably the least expensive diner breakfast we've ever had. Usually when you see such low prices on a menu you assume that the food isn't going be that great or that the portions will be tiny, but at Compton's the food is cheap and good and the portions are decent.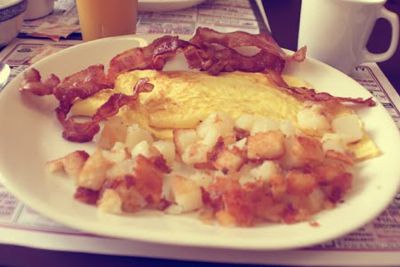 While that alone is enough to put them on our top five, there are a few other things that make Compton's stand out. We usually get our staple two eggs over easy with bacon, home fries, and rye toast. The bacon was perfect: not too crispy and not too floppy, the eggs were not over cooked like some diners tend to do to an order of over easy, and the home fries were slightly crispy on the outside and nice and soft on the inside. The service was good, and unlike some places, they can also make a decent cup of coffee.
We loved the fact that we were able to snag the window booth and people watch Broadway while we ate enjoyed a leisurely breakfast. For those who are hitting the Saratoga night scene, you'll be happy to know that once the bars close their doors for the night, Compton's is waiting with open arms to give you some great grub to help you sober up. But for those who like to sleep in on the weekends, they are only open until 2:45 pm every day.
Halfmoon Diner
231 Grooms Road Clifton Park (map)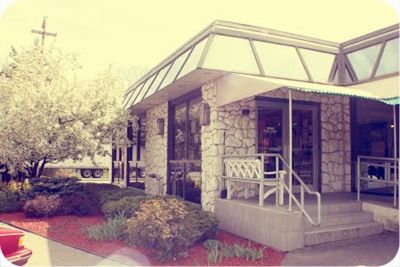 We don't find ourselves in Halfmoon all that often, but when we are, there is no other spot for breakfast.
We happened upon the Halfmoon Diner the same way we found Compton's (thank you iPhone + Yelp!), and have been back several times. This is the only diner on our list that isn't authentically vintage.
That's how good it is.
The Halfmoon is a very neat, clean diner and they know how to make the perfect cup of coffee. Yes, it sounds like a broken record to keep bringing up good coffee, but we've been to a lot of diners in the past year, and trust us... there is some nasty coffee out there.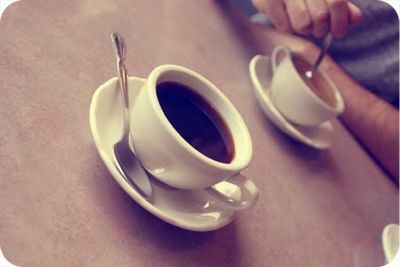 The best breakfast I've had at the Halfmoon so far is their Greek Omelet with spinach, onions, tomato and feta. It was very fresh and moist. We love that their home fries are grilled up with onions, that's very rare around here. Halfmoon also makes their french toast with seasoned challah bread and it comes sprinkled with cinnamon and sugar. Again, like almost all local diners, they serve imitation syrup, which honestly, nobody really loves.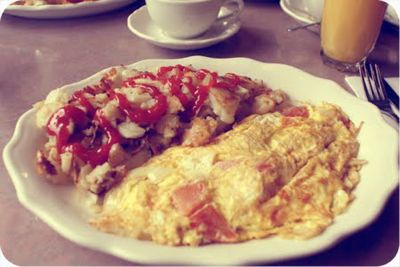 All of the times we've eaten at Halfmoon, the atmosphere has been quiet and relaxing, a great way to start the day. The waitstaff has also been consistently great at being attentive without being overbearing. I'm really looking forward to exploring more of their omelet menu the next time we're up in their neck of the woods.

Manory's
99 Congress St., Troy (map)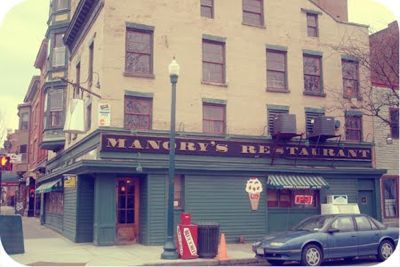 I used to work in downtown Troy, and that is how we came to find out about Manory's. Any place that has been around for almost 100 years is worth trying, and we were really impressed with Manory's.
When you walk in, it's like stepping back in time. The windows are lined with big wooden booths, and if you're lucky enough to get one it's a great spot for some people watching. In the center of the dining room sits a big vintage counter with cushy stools and off to the sides of the room there is a giant juke box and a vending machine full of lottery scratch offs.
Manory's is a great place to catch up on your local history. Not only is it the oldest restaurant in Troy, but the walls are covered in old photographs of local landmarks.
The waitstaff also has that quirky charm that you would expect from a diner. On our last visit the busboy asked us to keep our voices down because he was nursing a hangover. We think he was joking.
When we go to Manory's I usually order the Vegetable Lover's Breakfast Burrito, but their breakfast menu goes well beyond that.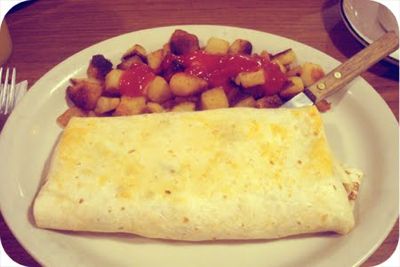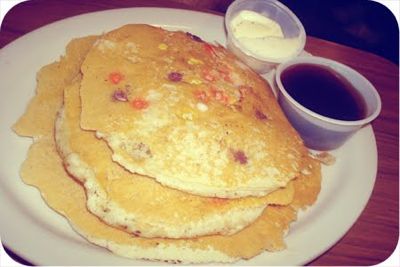 One morning we even got some Reese's Pieces Pancakes, and during our most recent visit, Mike tried out their newest breakfast item: chicken and waffles.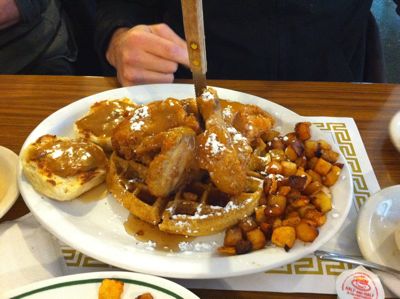 He loved it for the first few bites, but the imitation maple syrup started to get to him. We can't emphasize enough to every diner out there how gross it is to try and pass of corn syrup as maple syrup. Not the same, not even close!
Despite that one complaint, we are really looking forward to coming back to Manory's because their menu is so huge we don't even know where to start. I'd really like to try their seafood eggs benedict, or maybe the crab meat and cheese omelet. Wait, no! The cookies and cream waffles, or the super sundae waffles with ice cream and chocolate sauce!
Crystal writes about diner breakfasts -- and other beautiful things -- at Windshield Diaries.
Hi there. Comments have been closed for this item. Still have something to say? Contact us.