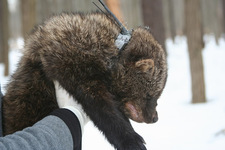 Today on NYT's "Scientist at Work" blog: NYS Museum curator of mammals Roland Kays, talking about his research on fishers -- Albany's "urban weasels" -- in the Pine Bush:
You can't exactly go out to your backyard and watch fisher behavior. They do their best to avoid people, coming out at night and moving quickly and quietly through the forest. Furthermore, your presence would change their behavior, and also alert the prey they are trying to sneak up on. Over the next few weeks Scott and I will be opening the biologist's toolbox wide to peer into their lives without affecting their behavior. We are deploying small GPS tracking collars to see exactly where the animals go, and tiny three-axis accelerometers to characterize their behavior. We use motion-sensitive camera traps to document their prey populations and monitor key movement corridors. Finally, we follow their tracks in the snow to see for ourselves what they did the night before, what and how they hunt, where they sleep, and with whom. The fieldwork is challenging, but gives us a well-rounded view on how this weasel has adapted to urban forests.
Kays has been pursuing this research for a few years now. We talked with him about fishers two years ago -- it's still one of our favorite AOA interviews.
photo: Roland Kays
Hi there. Comments have been closed for this item. Still have something to say? Contact us.