By Akum Norder
I'm going to tell you a story about something that didn't happen. But that doesn't mean the story is a sad one.
Peebles Island State Park is one of my favorite Underappreciated Places of the Capital Region. The island, which sits where the Mohawk and Hudson rivers meet, is easy to get to and has a nice little trail. But what makes Peebles so interesting is the views: From the cliffside trail you can see waterfalls, other islands, the waterfronts of the surrounding cities, and factories and other industrial sites, some empty, some humming. And then there's the forest and fauna of Peebles Island itself. Not entirely natural or entirely urban, it's a compelling combination.
Its primary draw, at least this time: The eagles.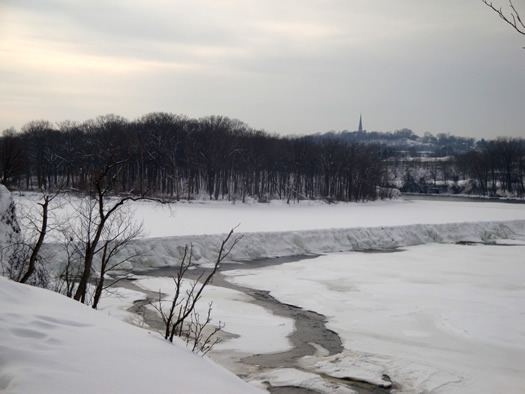 I've gone to Peebles Island a couple of times to look for bald eagles. I went not because I'm much of a bird-watcher, but because it felt wrong to me, somehow, that they're our national bird and I'd only ever seen one in a zoo.
I was skeptical when friends who live along the river in Troy and Green Island described sitting on their decks and watching eagles fish. Can eagle-spotting really be that easy?
Twice, in 2009, I was lucky. One of them came heart-stoppingly close as it swooped out of its tree.
But not this time.
So there you have it: I went eagle-spotting. This time, I didn't see any. And yet, it was marvelous.
Signage on Peebles Island describes it as "one of several great spots in New York State" for observing eagles overwintering from Canada. And this is an ideal time to see them: According to the DEC, January and February are the months of peak concentration for wintering eagles.
Morning and dusk are the best times for viewing eagles, as is the case with much wildlife. But thanks to car trouble, my companion and I ended up at Peebles Island closer to lunchtime. Determined to make the best of it, we headed in anyway.
We found the trail nicely tamped down. It was a balmy 32 degrees, according to a Cohoes bank marquee we'd passed on the way in.
The trail begins along a fence behind the state's Historic Preservation Offices (housed in the old Cluett Peabody Bleachery), then splits to make a loop. Going right is my favorite choice; the trail quickly shifts to trace the cliffs along the water.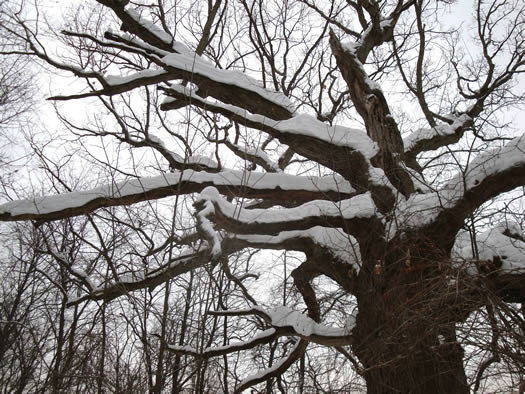 There's a purity to the woods in winter: It's a stripped-down world, minimal in color, outlined in snow. As we walked we scanned the treetops and let our gazes play out over the river. That dark shape - is it ... ? No. It's a snow-capped squirrel's nest. Sigh.
The Mohawk and Hudson don't meet at a T, the way it might appear on a map. The rivers branch around islands and pool, creating organic forms of ice against black water, turbulent and mesmerizing.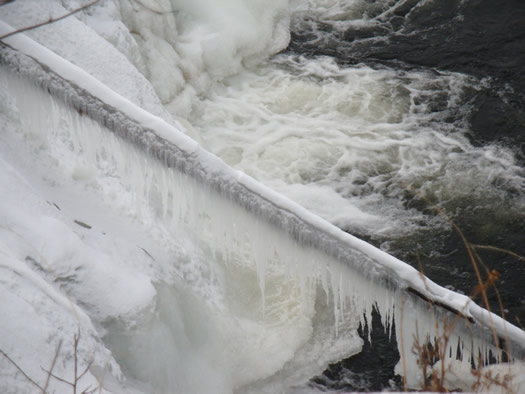 As the land curves along these waterways, the trail soundscape changes: Here, rushing water; here, the call of ducks; here, an industrial thrum.
I like the way winter exposes animal activity: We see their paths to the water; we see where they broke into a run. We paused twice to watch deer on the frozen river. We saw more woodpeckers then we could count. A section of waterfall broke through its icy shell with a roar.
But no, no eagles.
And yet, time spent letting your eyes play in the architecture of trees is never wasted. We returned to civilization with restful hearts.
Try it. You may well have better luck.
Tips for viewing eagles




Bring binoculars.


Don't do anything to bother the eagles or cause them to take flight. As the DEC notes, "It is important that they conserve energy during the winter months."


If you see four or more eagles in one location, especially after 3 p.m., the DEC asks that you contact its Endangered Species Unit.


Earlier on AOA: Peebles Island is a great spot in the summer, too
Find It
Peebles Island State Park

Waterford, NY 12188
Hi there. Comments have been closed for this item. Still have something to say? Contact us.