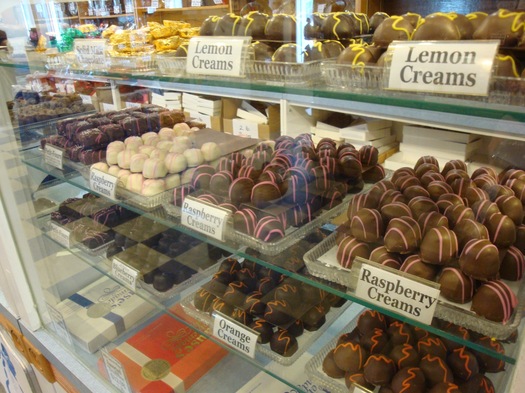 By Akum Norder
Love is great. No question there. But then there's ... chocolate.
The beauty of Valentine's Day is that it lets us indulge in both.
If you prefer your tokens of affection be coated in milk or dark chocolate, then nudge your sweetheart toward Krause's, 1609 Central Ave. in Colonie.
The local candymaker has been sweetening Capital Region life for 25 years. Recently Tom Krause, the owner, gave us a mouthwatering tour.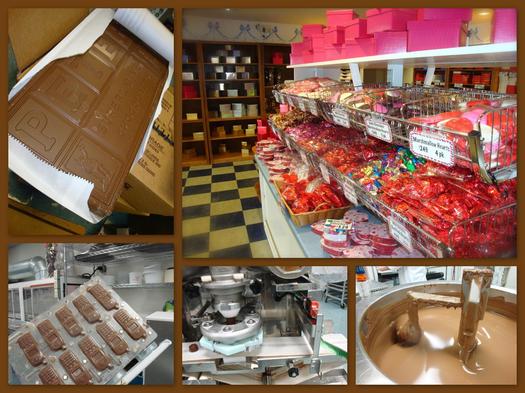 Krause's started in Albany in 1986, on Central Ave. near West Lawrence Street. In 1996 they moved to a larger space in Colonie.
But the family sweet tooth has (ahem) deeper roots than that. Three generations of Krauses have delighted taste buds around the Northeast.
In 1929, Tom's grandfather Alfred Krause came to New York from Germany and opened a candy store in Long Island. Tom remembers visiting his grandfather's candy shop as a child. "I could go in and eat whatever I wanted. Heaven. I think that's where I was imprinted."
The local Krause's is not a huge operation: They employ around 15 full- and part-time workers. The place is a little like how a kid might expect a candy factory to look like: The production room walls feature murals of bright, cheerful sweets. People are smiling. There's music playing. The six-pack of Saranac Black Forest sitting on the counter made us think, wow, this place really is laid back -- but no, it's for Krause's beer brittle, available only twice a year, for Father's Day and the Super Bowl.
They make a wide range of products, more than you might think possible given the size of their production space: Hard candy, fudge, brittle, all kinds of chocolate novelties -- and truffles. Oh, the truffles.
When we visited they were boiling syrup to make the cream centers for orange cream truffles. The room smelled heavenly. (Yes, I'd like to think heaven smells a bit like orange candy.)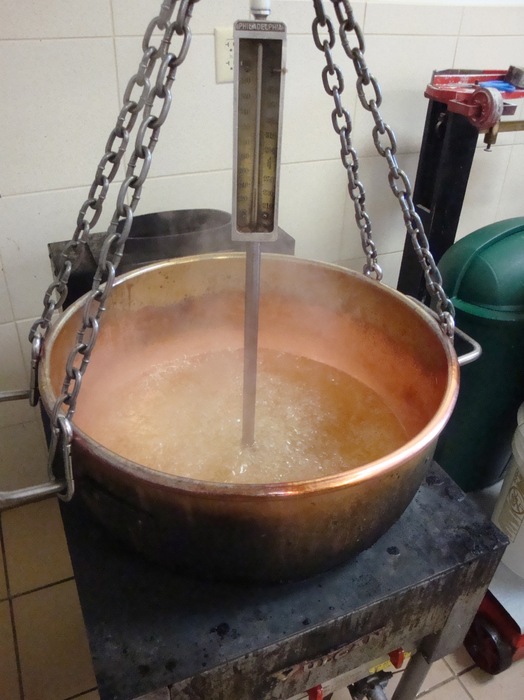 Working with syrup, Tom said, "is all about controlling crystallization." If you've ever tried making candy at home, you know what he means. Get it wrong and the whole batch gets grainy -- or turns into a solid lump. Oh, have I been there.
The kettle swings across the room on a metal arm to pour the syrup onto a water-cooled mixing table. It's misted with water, then kneaded and turned. Perfectly smooth.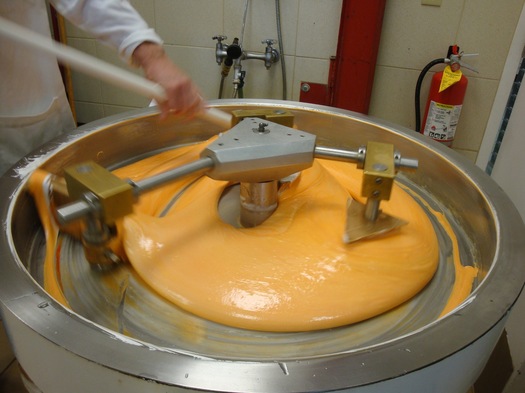 After other ingredients are mixed in, this orange cream will have a date with the truffle press.
Krause's uses a German truffle press that can put a filling inside of a filling. This lets them make things like strawberry cheesecake truffles -- cheesecake ganache nestled inside of strawberry ganache, all enrobed in chocolate. Isn't technology grand?
This magnificent machine inspired us to ask what exciting flavor combinations they could create with it. Cinnamon chipotle? Dark chocolate rosemary?
Tom shook his head. "Albany is traditional in its tastes," he said. More of a peanut-butter-and-chocolate kind of town.
Krause's tried spicy chocolate truffles; they didn't sell. Chocolate-covered bacon didn't sell. Even sea salt-sprinkled dark caramel truffles didn't sell. (Pause to wipe drool from corners of mouth.)
Confections made with lavender, rosewater, or wasabi may get raves in New York City, Tom said, but in Albany? They'd just sit in the case.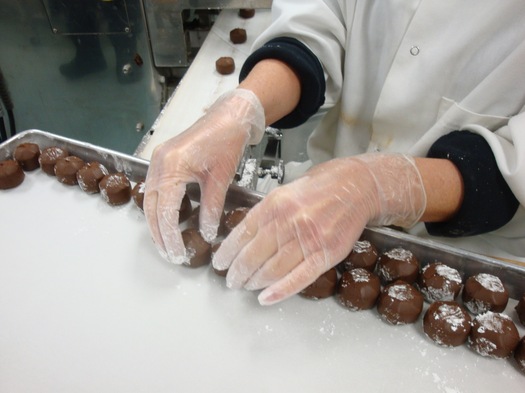 Albany's favorite truffles are the plain chocolate ones, milk or dark. But even those aren't their best-seller: Krause's most popular candy is buttercrunch. With almonds roasted in the batch and perhaps a zillion pounds of butter, it's marvelous -- like, eyes-roll-back-into-your-head marvelous.
Though Valentine's Day -- actually, Feb. 13th -- is Krause's busiest day of the year, Valentine's is not their busiest holiday. That would be Christmas. Second place goes to Easter: Every year they make 24,000 peeps, one at a time.
That's also the season that lets them roll out Titus, their biggest bunny mold. Seriously, this guy would dwarf some toddlers we know. If made with solid chocolate, Titus weighs 80 lbs. Hollow, he's 35 lbs. Still more than enough to treat the neighborhood, and maybe the neighboring neighborhood too.
But chocolate tastes good in every shape. Their library of chocolate molds contains thousands of designs, stored alphabetically by category. While we visited they were making cell phones, cars, and teddy bears.
And that's what struck us about Krause's: Their treats made in small batches, by a small group of local people, were a cure for the mass-produced, global-shipping blues.
And the fact that they're delicious? That's the icing on the cake.
...........................
Krause's products are available only in their Central Ave. store or through their Web site.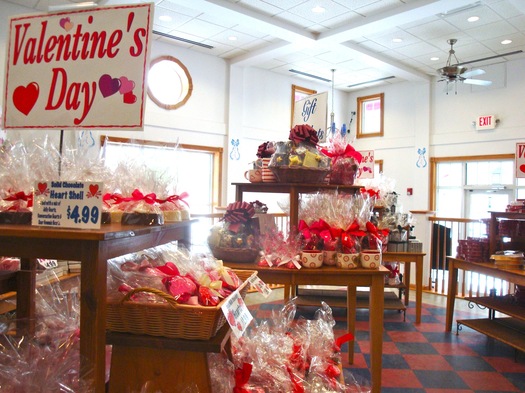 Find It
Krause's Homemade Candy
1609 Central Ave.
Colonie, NY 12205
Hi there. Comments have been closed for this item. Still have something to say? Contact us.