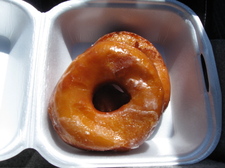 Update: We've created a listing of Capital Region gluten-free restaurant options, based on all these suggestions.
____
Jennifer emails:
For most of the last decade I've gone out to dinner with the same group of friends every Thursday night. Last year one of those friends was diagnosed with severe Celiac disease, which means that even the tiniest trace of gluten in her meal leaves her in horrible pain for days. Because of that dietary restriction we've mostly reduced the restaurants we choose from each week to one of half a dozen major national chains, all of which serve more or less the same type of food. I'd like to bring a little more variety back to our weekly dinners, and so I turn to you guys.
Do you know of any independent, locally owned, and/or ethnic restaurants that can reliably make a Gluten-free meal? Preferably a place that has entrees in the $10-20 range and also offers vegetarian options.
The restaurant that pops into our heads right away is New World Bistro Bar in Albany -- we've eaten there with both gluten-free and vegetarian people and everyone seemed happy.
And be sure to check out the post Jess wrote a few years back about finding gluten-free options in the Capital Region (there were also some helpful comments).
Anyone have suggestions for Jennifer and her friends? Please share!
NWBB has advertised on AOA in the past.
Earlier on AOA:
+ Sherry Lynn's Gluten Free Cafe (that's where the donut above is from)
+ Eating gluten-free in the Capital Region
+ Xs to Os Vegan Bakery in Troy
+ The place to score gluten-free cupcakes
Hi there. Comments have been closed for this item. Still have something to say? Contact us.